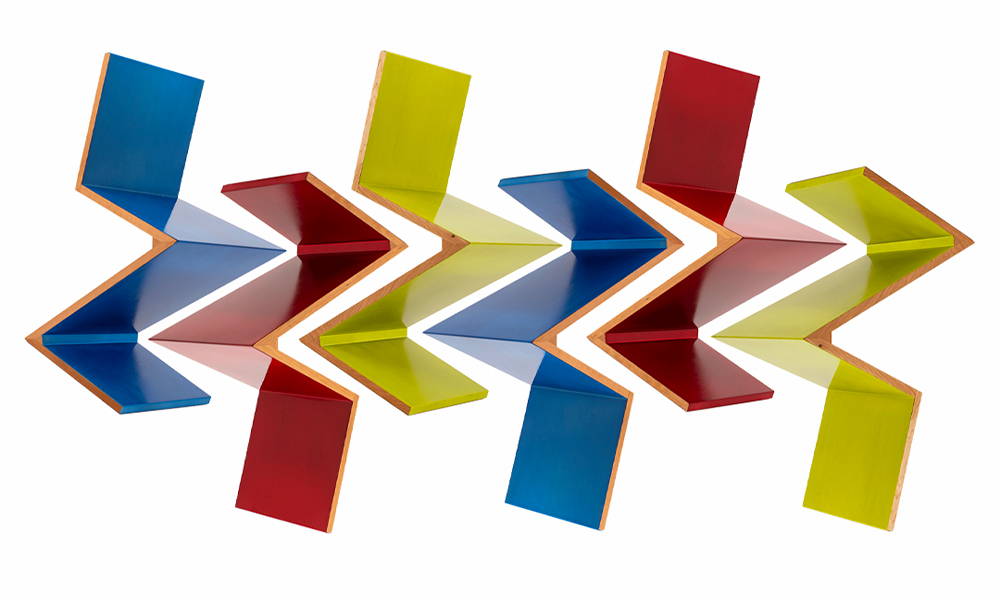 One Block Down x Cassina: "Chromatic Floating Opposites"

One Block Down explores subcultural stories and their influence on the past, present and future. It is home to an ever-growing archive that documents different movements and ideas, and captures their impact on contemporary culture.
For its latest project, One Block Down teams up with Cassina, marking their second collaboration. The internationally renowned Italian brand, is characterized by groundbreaking furniture designs and is revered by countless creatives that operate in various fields, from music and cinema to fashion and art.
The pair first came together in 2022 to create a unique iteration of Gerrit T. Rietveld's Zig Zag chair. One Block Down studied this icon, drawing inspiration from its seemingly unstable form, to create its own distinctive version that saw its wooden structure overlaid with panels of sheet metal. Now, for its second rendition of the storied object, One Block Down further explores Gerrit T. Rietveld's history, delving into his use of color to propose new limited edition pieces.
The Zig Zag chair came to life in the early 1930s, when Gerrit T. Rietveld was commissioned to design a seat for mass production. It was the first of its kind – a cantilevered form constructed from steel strips covered with a single sheet of fiberboard. Rietveld soon realized that the fiberboard was not sturdy enough, so the next model was developed from steel and plywood.
Rietveld's work is defined by continuous experimentation. The brilliant Dutch architect, particularly known for his involvement in the Neoplasticism movement, designed and proposed numerous variations of his most acclaimed models, including the Zig Zag chair. The rhythmic sequence of the reversed Z shape emphasizes the relationship between its vertical, oblique and horizontal lines.
This graphic rhythm and separation of structural elements are recurrent themes in Rietveld's work and what make him synonymous with Neoplasticism and the associated artistic style known as De Stijl.
The De Stijl art movement sought to portray visual compositions in their simplest form, resulting in an aesthetic that is defined by linear elements and primary colors. An icon of this artistic approach, Rietveld and his work became intrinsically linked to certain shades – in particular, red, yellow and blue.
Imbued with historic references, One Block Down's latest version of the Zig Zag chair honors the significance of these three striking colors which the architect used to express the true essentiality of the object's form. Like its predecessor, it is crafted from two opposing materials, wood and sheet metal, only the latter is now saturated in red, yellow or blue, underlining the meaning that the architect attributed to these shades. Cassina's production of this creative vision highlights its illustrious mastery of furniture design.
To celebrate this limited edition collection, One Block Down worked on a special campaign featuring a unique installation created at Piscina Scarioni, one of the most iconic public pools in the city of Milan which opened in the Niguarda neighborhood in 1957 and closed in 1989, before reopening on some occasions in the early 2000s. The campaign highlights the vibrations and colors of the new Cassina x One Block Down collaboration, contrasting with the past glory, grayness and nostalgic beauty of one of the most interesting architectural projects of the city.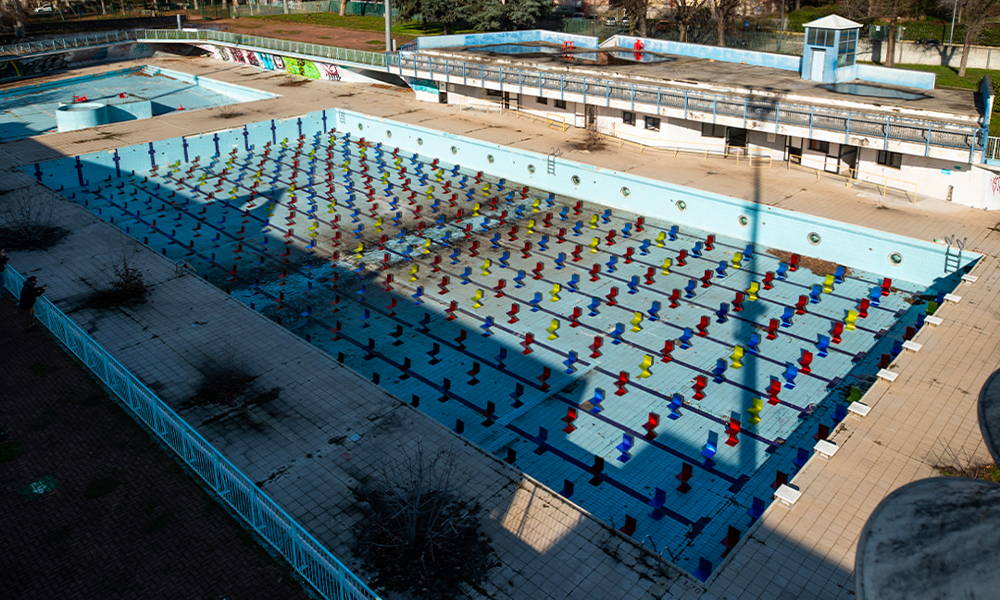 To receive updates on our latest editorials and documentaries, be sure to follow @oneblockdown on Instagram and subscribe to our newsletter below for more.
---