How PlayStation Tapped Underground Club Culture to Forever Change the Face of Gaming

The One Block Down editorial archive is an ever-evolving resource detailing the cultures, movements and ideas that defined contemporary stylistic discourse. From unique takes on today's leading pop-culture topics, to off-kilter stories that might have slipped through the net, our editorial archive is as fundamental as it is abstract.This latest editorial is part of our on-going partnership with content creator Samutaro.
When Sony launched the Playstation in the UK in September 1995, it not only revolutionized the gaming market with its ground-breaking console technologically, but it simultaneously transformed the whole industry culturally too. With its advanced 32-bit processor and accelerated graphics hardware, the innovative console set the scene for some great 3D games, but also Sony's association with underground music and alternative scenes. Rather than attempting to compete with veteran manufacturers like Nintendo and Sega who were dominating the family and male-teen market at the time, Sony instead pursued what it described as the neglected young adults who had spent their childhood playing Mega Drive and SNES but had since outgrown them.

The dawn of the Playstation era was marked with the release of experimental titles that appealed to this new demographic of twentysomething hipsters with disposable income and a taste for something new. "The PlayStation's graphical power gave rise to a new realm of realism, which sought to pave the way for a new generation to bask in the glow of fast-paced polygonal action," explainsGameCentral. This included the stunning racetracks of Gran Turismo and Venetian canals of Tomb Raider 2. It brought about the intense Antarctic setting of Metal Gear Solid and the steampunk world of Final Fantasy 7. "It showed that gaming was not merely confined to anthropomorphic pixel-platformers."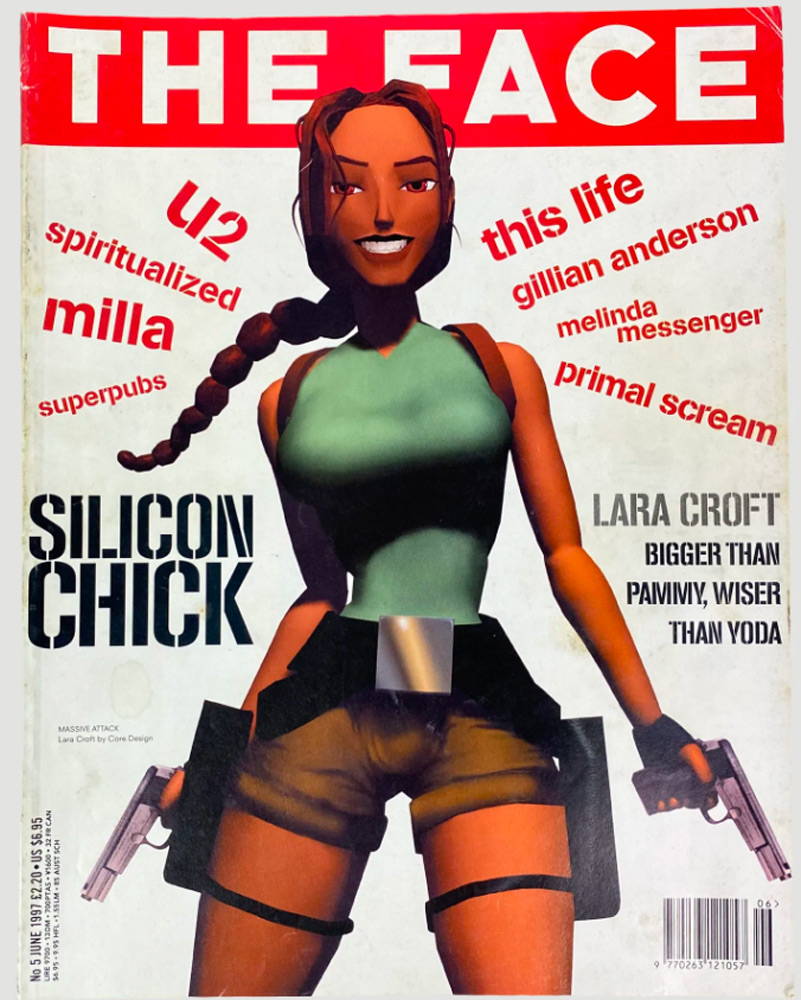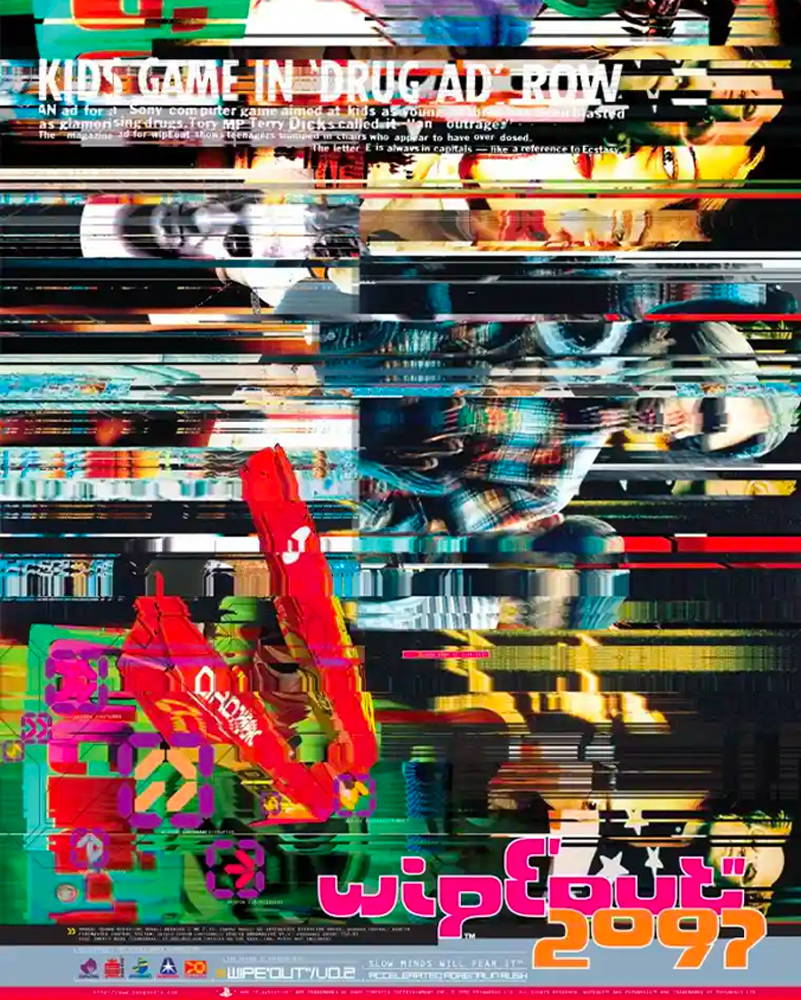 Beyond the groundbreaking graphics, Sony's savvy marketing team understood how they could align its growing catalog of games into the wider aspirational lifestyles and activities of these young adults. Geoff Glendenning, who was a young marketing manager at Sony UK in this era – was instrumental in the rollout of guerilla marketing campaigns for Playstation in the UK. A lifelong gamer, who was also familiar with the illegal raves that were bubbling across the country, Glendenning recognised how underground club culture was influencing the youth market.
As he explained to theGuardian, "In the early 90s, club culture started to become more mass market, but the impetus was still coming from the underground, from key individuals and tribes," he commented, going on to say "what it showed me was that you had to identify and build relationships with those opinion-formers – the DJs, the music industry, the fashion industry, the underground media."
One of Glendenning's early ideas for Sony was to infiltrate the UK's club scene by creating 'chill out' rooms to demo the console. The tactic not only gave wide-eyed ravers the chance to play on the racetracks of Ridge Racer and Destruction Derby, but it also allowed the PlayStation brand to become synonymous with counter culture surrounding underground electronic music. Initially launched at London's Ministry of Sound, the concept was swiftly rolled out to a further 50+ clubs around the country - with each booth containing 10 PlayStations and TVs. Sony's other regional offices caught on, and the company was soon sponsoring extreme-sports events and music festivals around the world, including Big Love, Tribal Gathering and later, Lollapalooza.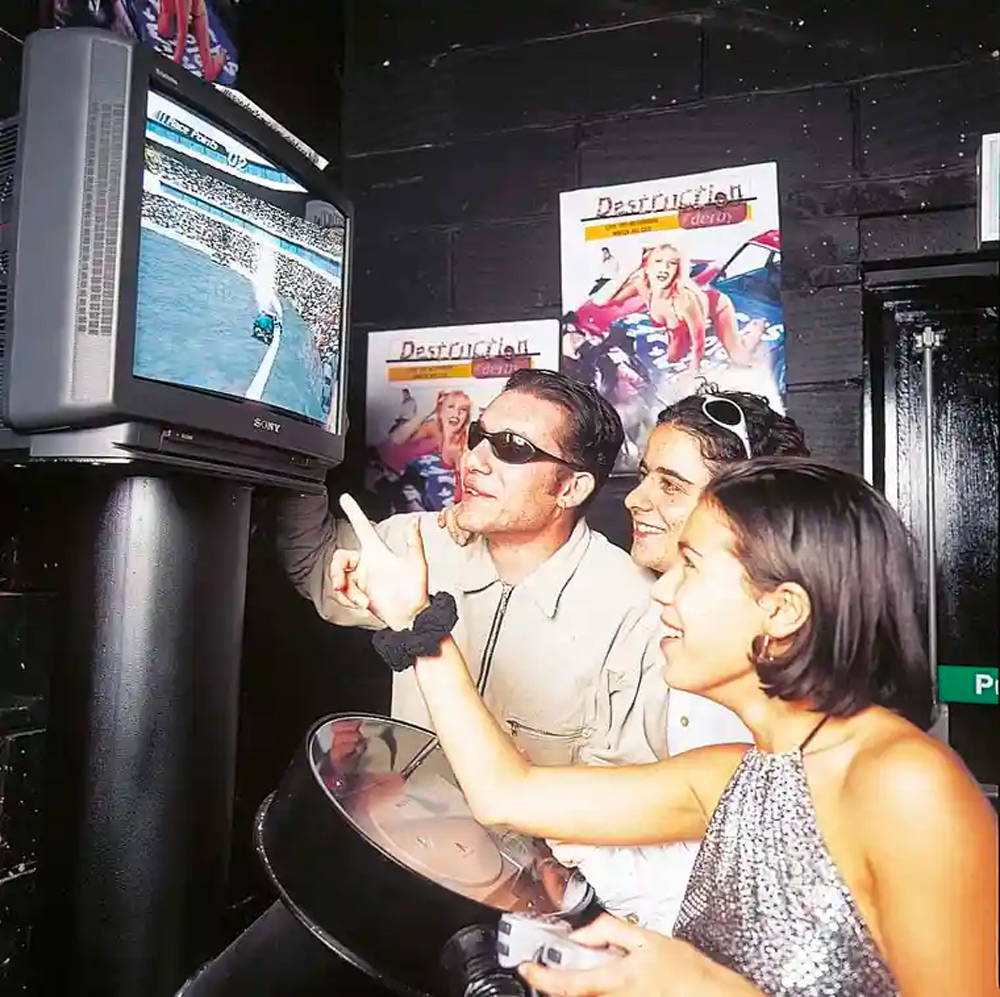 It wasn't just inside the club that Sony was marketing its new games console. Outside, Playstation promo cards were secretly stashed inside the bags of flyers that were handed out to ravers as they staggered out of the club. Famously, the company produced a black card flyer featuring a Playstation logo and the words "More powerful than God". According to Glendenning, the card was serrated into small sections, 'coincidentally' perfect to provide filters – or "roaches" – for joints.
Glendenning toldVideo Games Chronicle how he hid the flyer purpose, saying that his manager Chris Deering approved the idea under the presumption that it was a jigsaw that could easily be torn up to dispose of chewing gum. Glendenning said: "Even though it was very tongue-in-cheek and risqué, I would say that the perforated card was one of the most successful marketing promotions we ever did."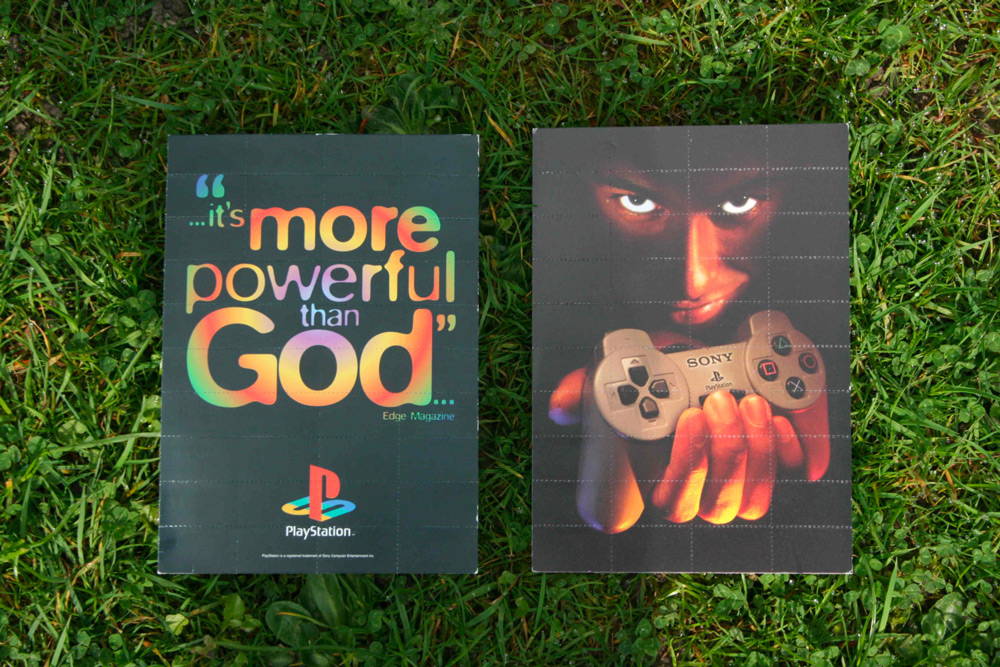 Despite its blatant encouragement of drug use, the campaign wasn't the only subversive campaign Sony would run. The 1996 Playstation ad for Wipeout was controversial at the time because it was thought it portrayed a drug overdose. The two page spread for the slick spaceship racing game featured a male and female player slumped on a couch with blood gushing from their noses. Though the company claimed it didn't promote drug use, it didn't stop the media hysteria. Tory MP Terry Dick called it "an outrage" and one newspaper suggested that the capital E in the title was a reference to Ecstacy. Next Gen refused to run the ad too which prompted Sony to withdraw the original and redesign acensored version without the blood.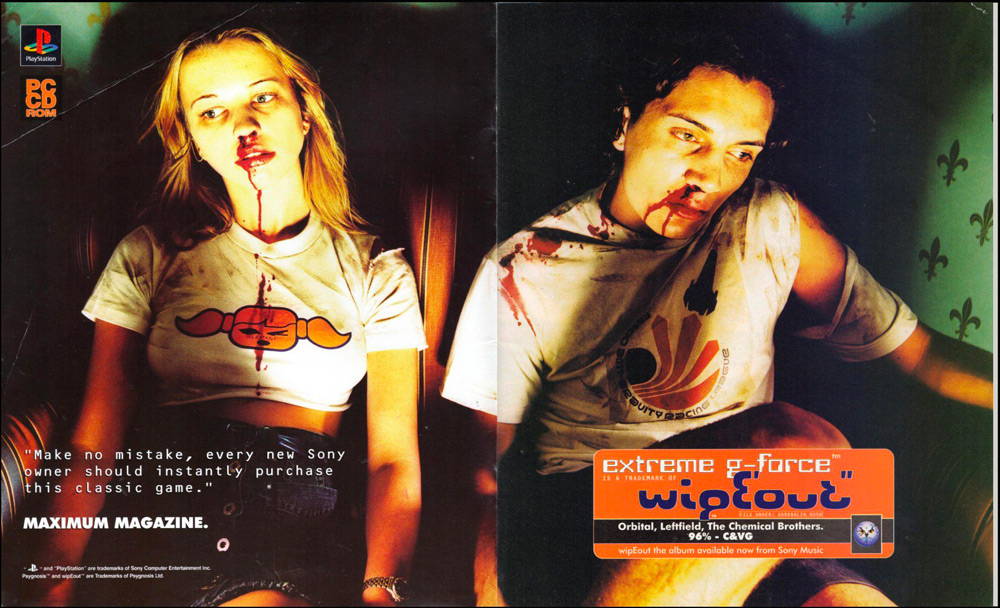 Although Sony withdrew the ad and redesigned it with a censored version without the blood, it did little to stop their mischief. Soon after they clapped back with another ad poking fun at the sensationalist comments. To design the poster, Sony commissioned the achingly cool Designers Republic - who were also responsible for creating the graphic language for the game's visuals. The Sheffield-based design house was famous for its futuristic artwork on most of the top UK dance music labels at the time, which naturally led Sony to licence soundtracks from some of the most influential artists at the time: including Leftfield, The Chemical Brothers, The Prodigy, Orbital, New Order (remixed by Hardfloor), Underworld, Fluke and Future Sound of London. The game even made a cameo in the 1995 film, Hackers where characters Kate and Dade play an arcade gamein a scene near the beginning of the movie.
This wasn't the only game that crossed over gaming with club culture. In 1998, Playstation released Music 2000, a beat-making program that allowed wannabe producers a chance to make their own chintzy club tracks. In it, players navigate a grid of sound channels, a video sequencer, and even a sampler. Even though Music 2000 has been eclipsed by a number of other more advanced platforms for manipulating samples and making beats, it is still championed as an invaluable tool for jungle and grime producers. Though Dizzee Rascal eventually quashed the rumour that most of Boy in Da Corner was a product of playing on a copy of the game on his Playstation, names like Benga have since proved how you can still make a sick beat on it.
While Playstation's presence in UK nightclubs gave the brand grassroots credibility and games like Wipeoup were attracting a wider demographic, the company wanted its console to reach pop-cultures broader ecosystem. The success of Glendenning's marketing genius gave Sony the confidence to invest further into his ideas. In 1996 he was promoted to Head of Marketing, an advancement that gave him the power to expand Playstation's place in wider underground youth cultures. One of his first moves was to convince Sony to build a skate park under London's Westway. For Glendenning, the park was more than just a space for Playstation to slap its logos on ramps.
"When you talk about brand positioning, and you pay an agency millions, they'll say they think you should associate your brand with one particular area of culture," he explained toVideo Games Chronicle. "Whereas video games cross over into so many different areas of culture; it gave us a licence to work within board sports, hip-hop culture, graffiti, B-boying, snowboarding, surfing, inline skating, snakeboarding, sky-surfing and the like. You've got to have the credibility to be there in the first place, but also the work that you do is important. It isn't so much about stick your logo here, sponsor something and move on; it's about approaching and supporting areas of youth culture."
Sony's pursuit of global dominance wouldn't end there. Throughout the later part of the 90s, the brand continued to capture pop culture with its strange and offbeat advertising campaigns that included everything from an orgy of disembodied limbs, tattooed babies, weeping porcelain dolls, and lots of blasphemy. Perhaps the strangest of them all though was the 1999 TV commercial some claim for a marketing campaign that succeeded in convincing Twin Peaks creator David Lynch to directed by Aphex Twin collaborator Chris Cunningham. The video featured a teenage Scottish girl, with pigtails, who may or may not have been an alien, giggling about having never gone to Grimsby and monologuing about the idea of Mental Wealth.
By the dawn of the millennium, Sony had revolutionised the gaming industry from a pastime for teens hidden in their bedrooms to become something that was not just socially acceptable for young adults, but an experience that had a counterculture edge to it. "PlayStation took the age of the average gamer from about 14 to about 23," Glendenning told theGuardian. "It made games cool, it made them part of popular youth culture – people were no longer embarrassed to admit they played them. 'Games let us conquer the mundanity of real life' "But the lasting legacy goes beyond the games industry. It allowed us to demonstrate that brands aren't built by spending millions on television advertising. They are created via word of mouth."
To illustrate how Playstation had transformed the face of modern gaming, Sony commissioned famously disruptive agency TBWA, to create a 60-second TV and film commercial. Directed by the late great Frank Budgen and written by Ed Morris, Double Life showed a succession of weird, one-liner vignettes about how gamers turn to gaming to escape the reality of their mundane everyday lives. Less about the actual games, Double Life was more a declaration that gaming as a pastime had firmly embedded itself into modern culture.
Winning more awards across the globe than any single ad in 1999 this brand film for Sony Playstation changed the perception of gaming forever. Without even featuring the console, Budgen and Morris managed to capture the heart of what gaming is all about. It showed the Playstation to be a place where gamers come from all walks of life, from all around the world, with the only true common denominator being their love and enthusiasm for Playstation.
To receive updates on our latest editorials and documentaries, be sure to follow @oneblockdownon Instagram and subscribe to our newsletter below for more.