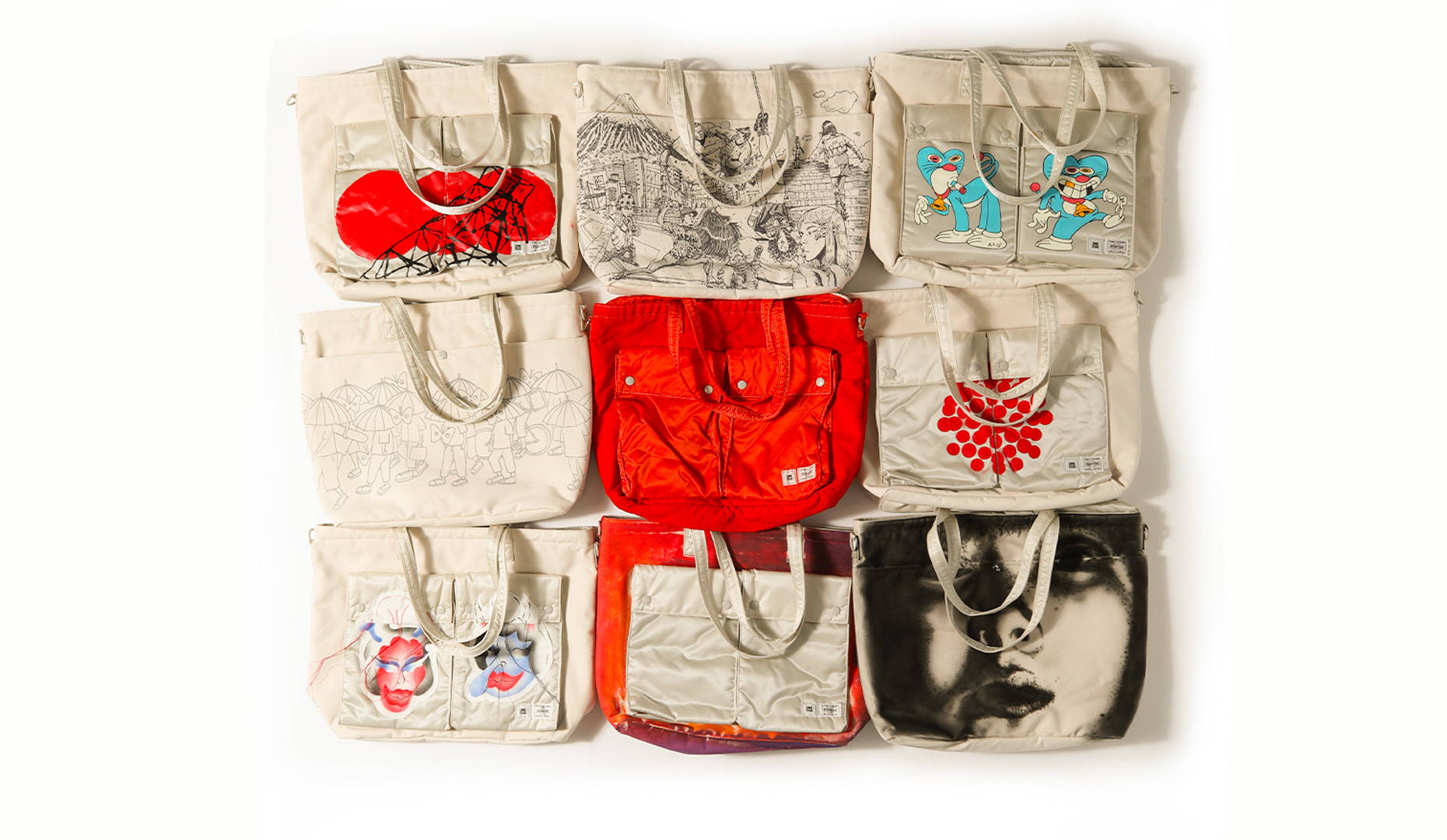 One Block Down x Porter-Yoshida & Co. - Artist Series

To celebrate its latest collaboration with Porter-Yoshida & Co., One Block Down reached out to its community of artists for a call to action to customize nine bags from the collaboration.
The general theme was "Japan," with each artist able to interpret it as they preferred. All the bags are now available for auction, with the proceeds going to charities chosen by the artists.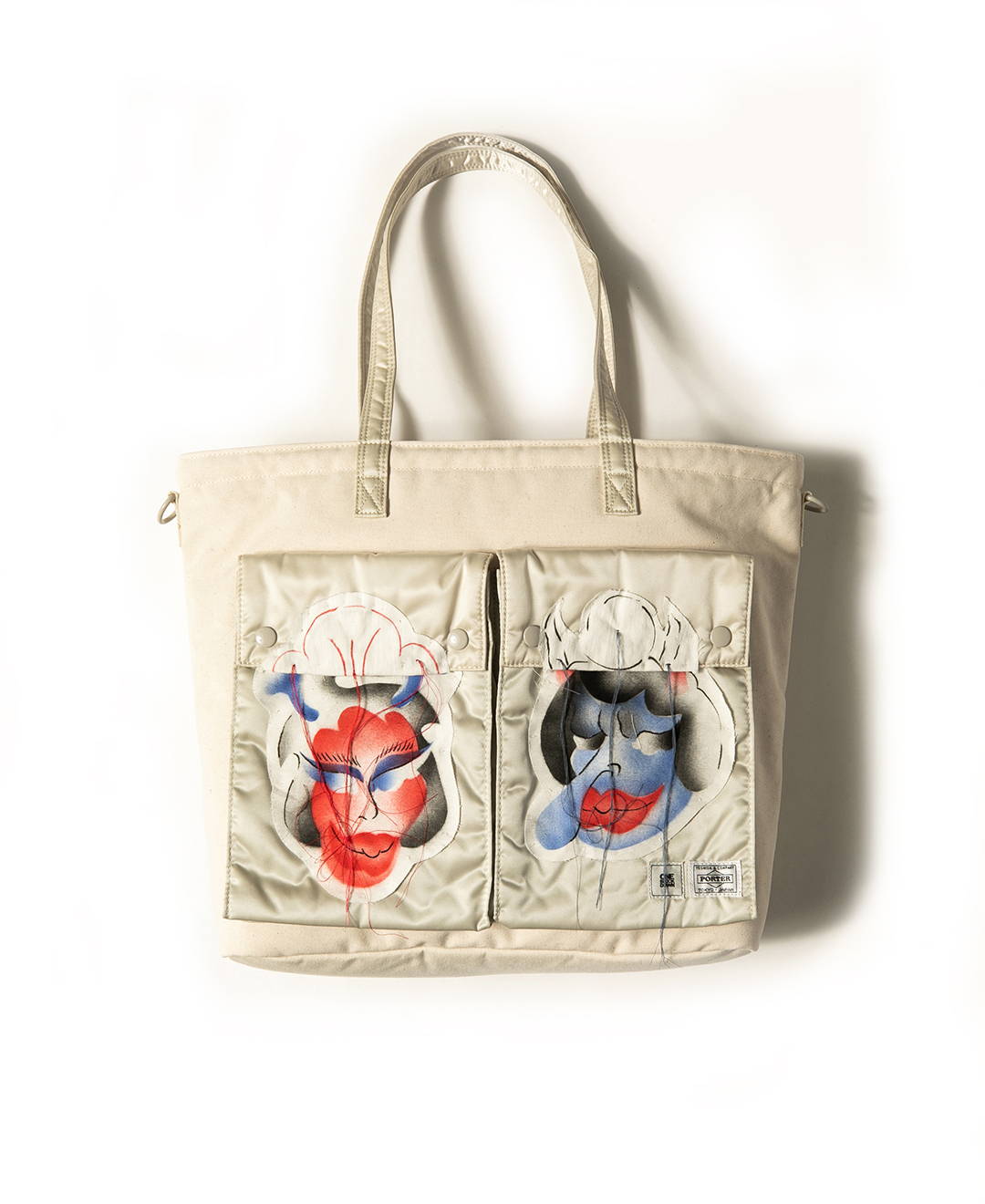 "The illustrations are inspired by the married couple of "Oni", Japanese demons, that always accompany En no Ozuno, a legendary holy man. They are named Zenki ,the husband, and Goki, the wife. I wanted to focus on the fact that "Oni" sometimes partner with "Kami", Japanese divinities. The demons also represent the "dark sides" of the gods. The interesting thing is the thin line between good and bad. So I decided to illustrate the love story between these two spirits in order to represent a kind aspect of two evil figures. I was fascinated by the idea that something that usually embodies bad in our culture can be just a darkish side of a being or a person."

Costanza Starrabba is an italian illustrator who lives and works in Milan.
Her work focuses on the relationship between body shapes and the space they inhabit.
She also works as a graphic designer for various brands and projects.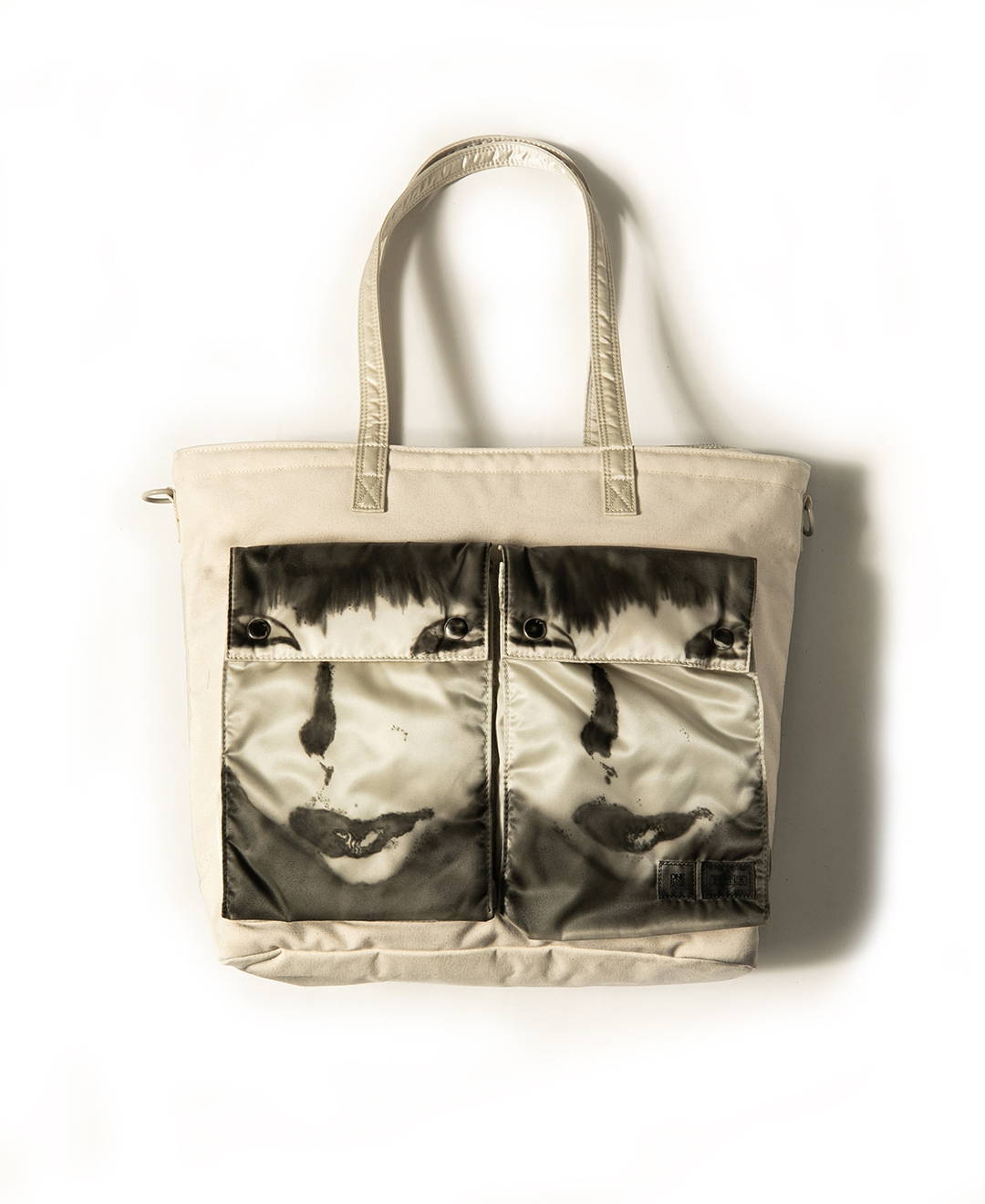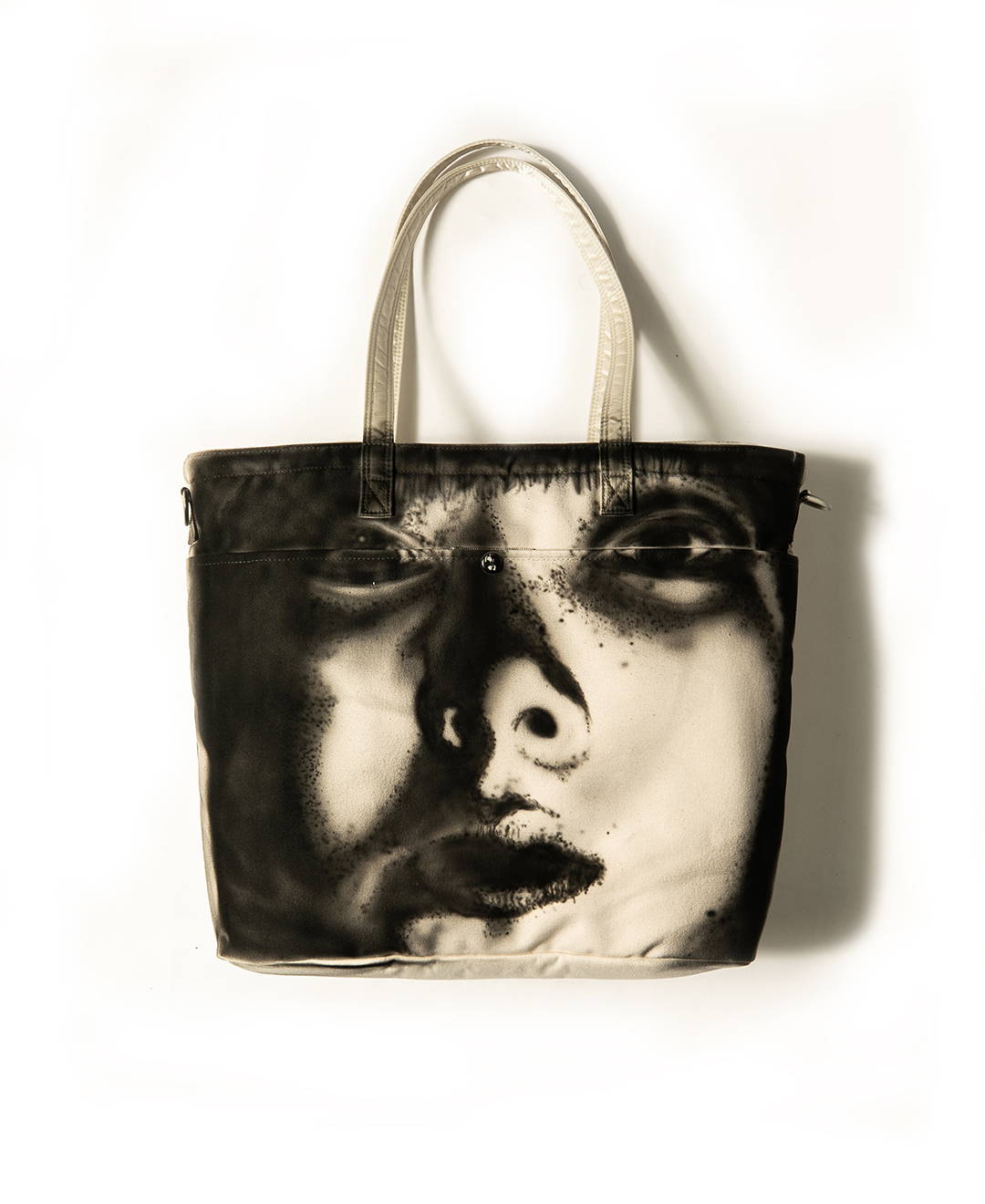 The piece pays homage to the 60's Japanese photography magazine Provoke and the photographers who gave rise to the style of photography that I continue to draw inspiration from in my black and white work. I painted some of my favourite work from the magazine namely from Koji Taki.
K. T. Kobel born London, UK. Lives and works in Amsterdam, NL. Working with airbrush. Exhibiting internationally.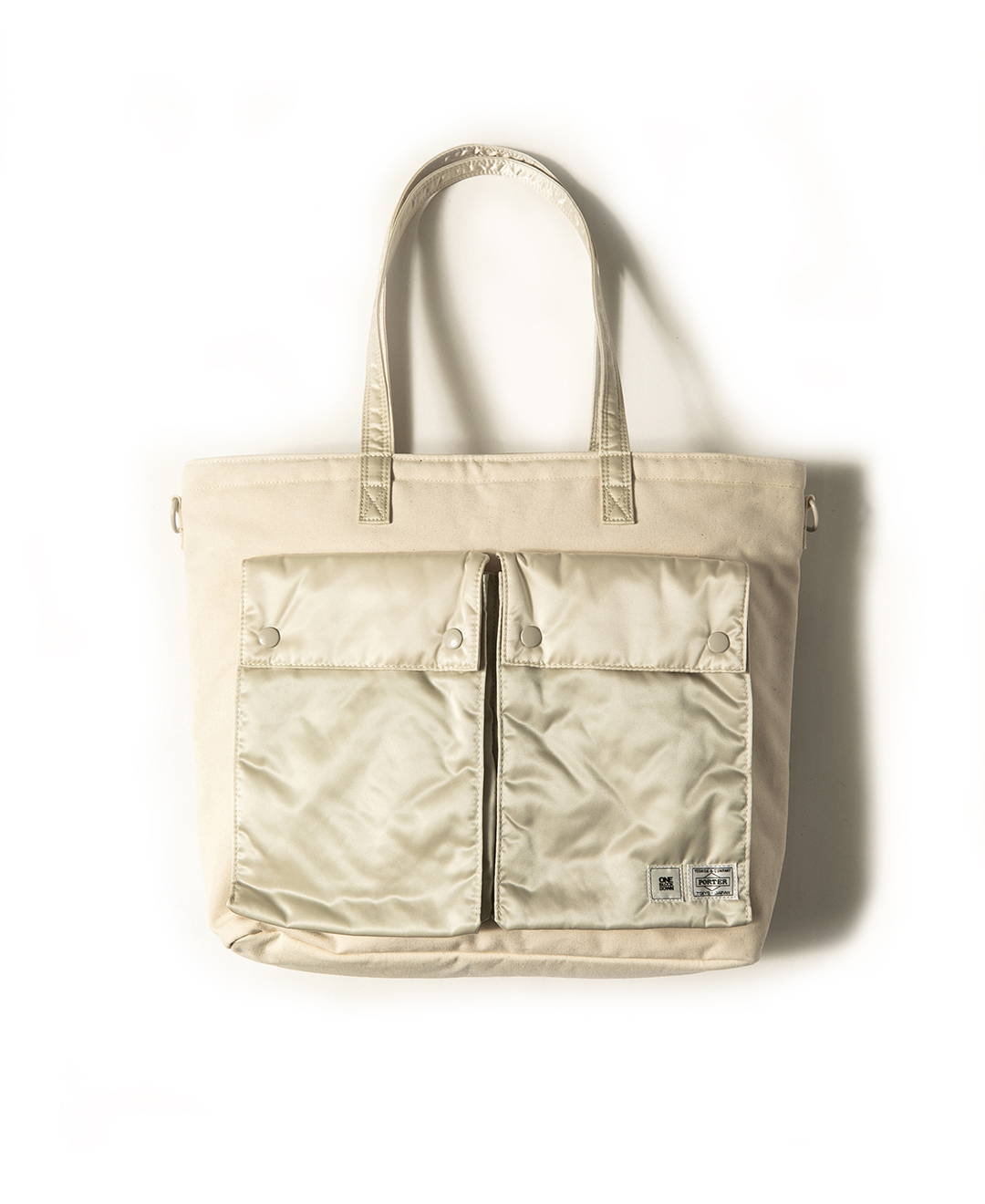 "The topic for the customization was "Japan". I have never been in Japan but you can feel in my work there is inspiration coming from this amazing country. So for me it was instinctive, I made a composition, like a puzzle or moodboard about my feelings."
Engy Saint Ange - Hi, I'm Engy, born in Paris 19th District. I'm 27, my inspiration come from everything I see daily, mostly people, I find originality in everyone. That thing feeds my immagination.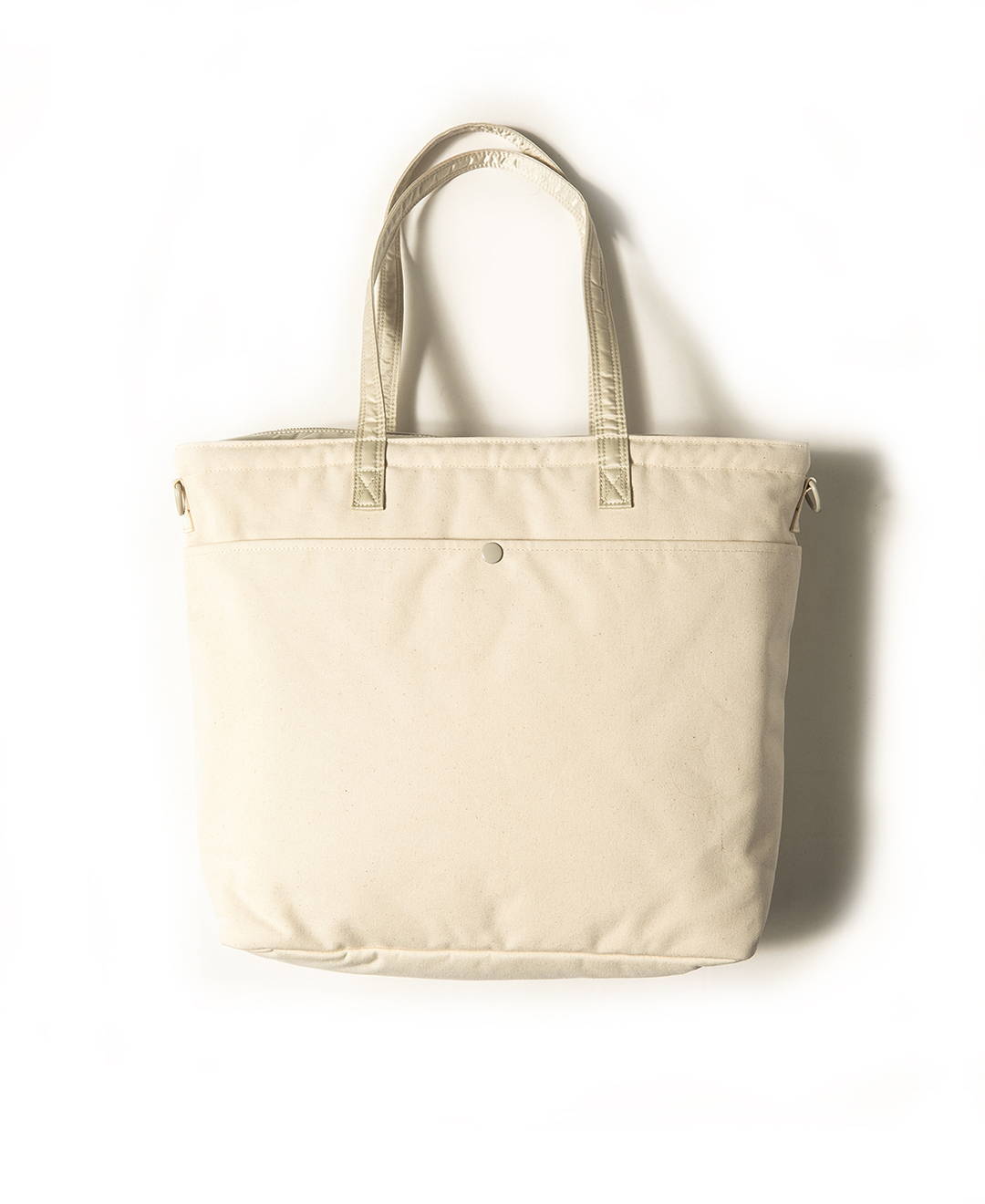 "If it is a white canvas rectangular bag, it is also a white rectangular flag.Japan represents the sun with a large red disc in the center of a rectangle.
I simply added my own interpretation of Japanese perfection, Plus Hinomati Orbs, to form the ideal Nisshōki."

Asata, a multifaceted artist who grew up at a young age with references from Milan and NYC (resident in the City of Milan), an esthete with a brilliant personality, a subtle ""out of shape"" intelligence, and a skilled creative in his training he studies art, design, and music.
Conceptual painter, overwhelmed at a young age by the grip of painting, Asata painted on wall and iron to return to the old steps among brushes, canvases, and clothes.
The first chapter of this endless artistic parenthesis is called PLUS ORBS.
Concentric circles that form perfect shapes.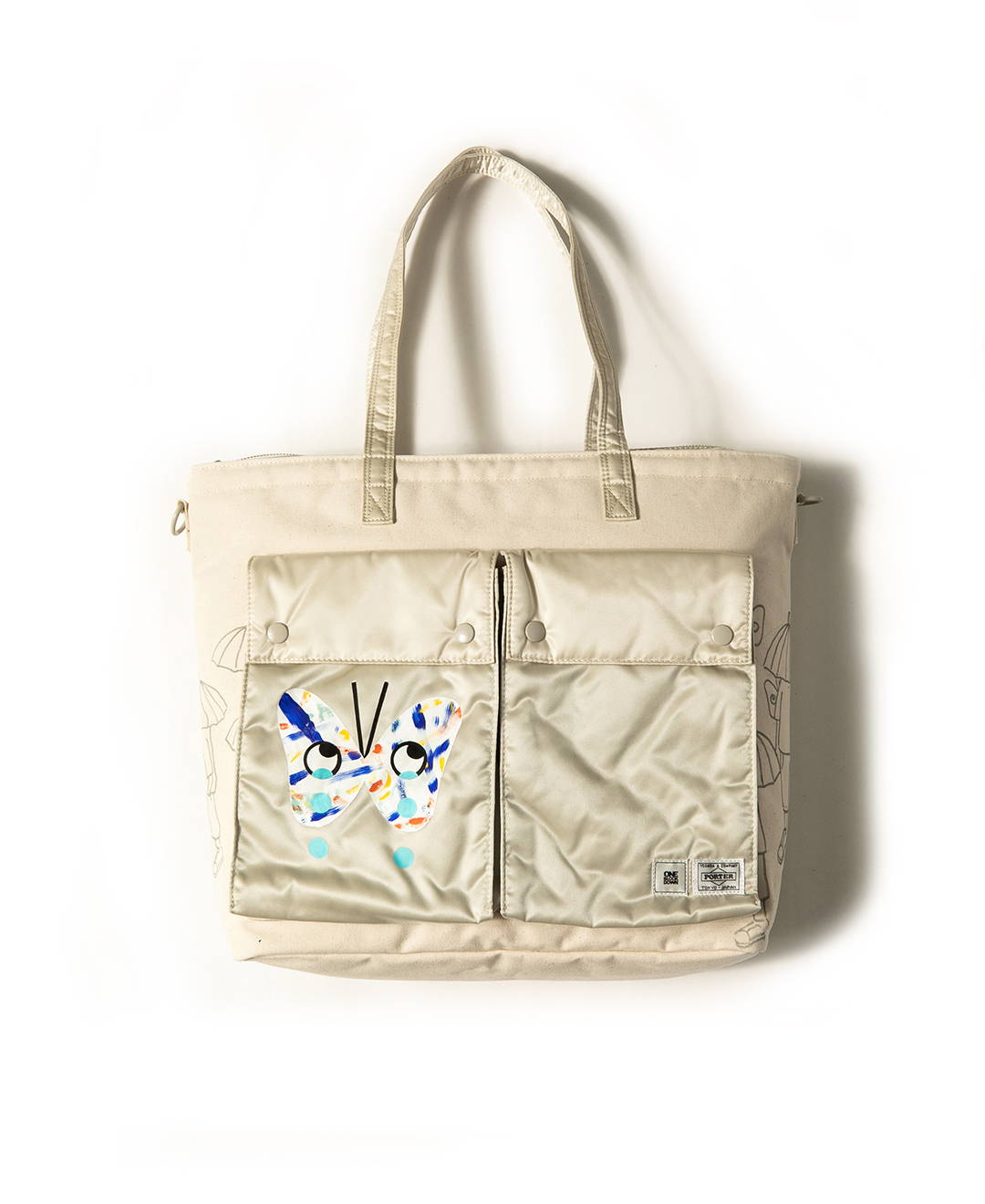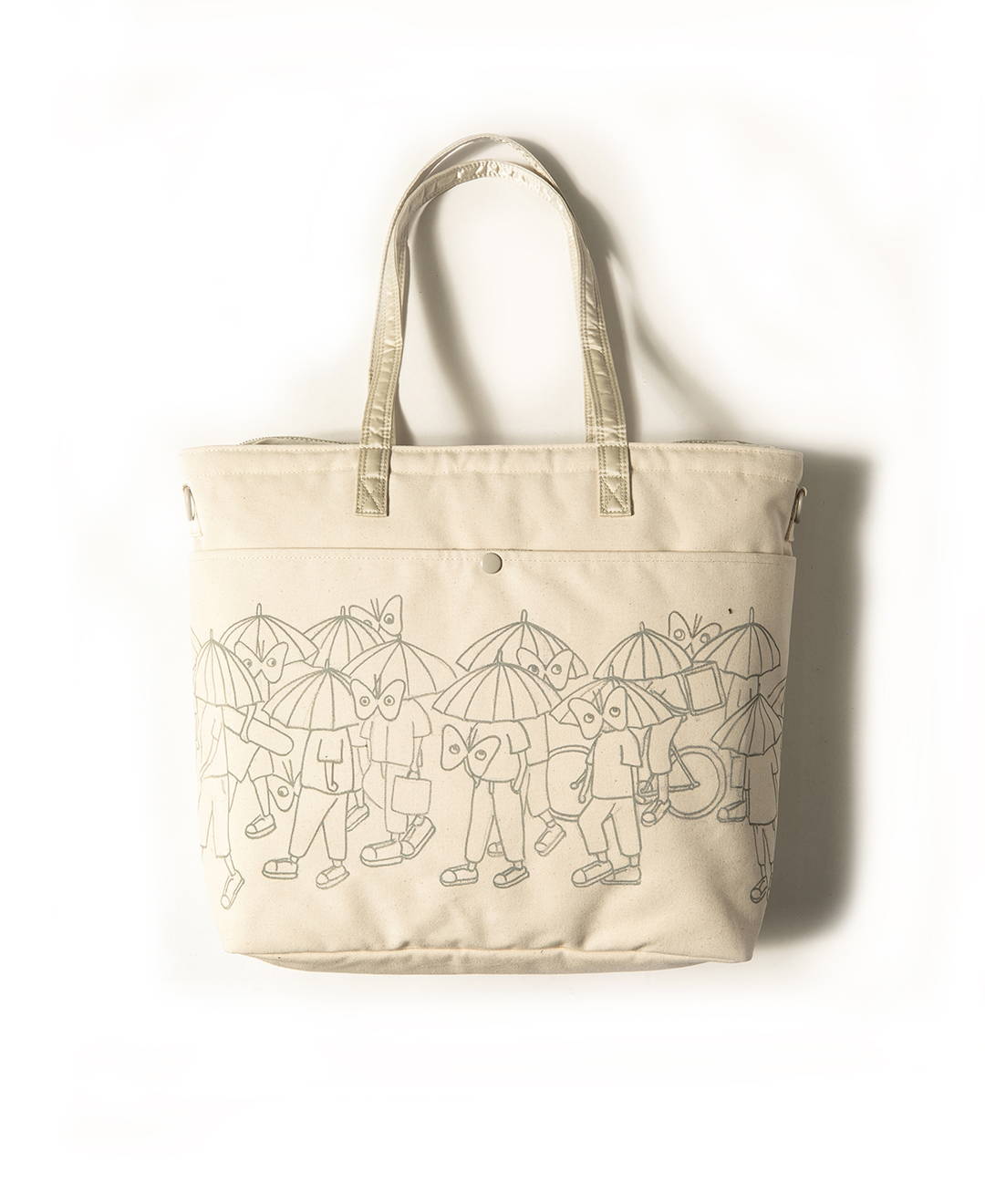 "Shibuya crossing is the busiest crossing in the world. Everytime around 3000 people cross at the same time. Each of them has its own purpose to be there. The one who is going to see his or her loved one. The one who goes to work. The one who is going home. The one who escaped from home. The one … the one … the one… Every two minutes, the crossing gets filled with 3000 different thoughts of people, then disappear, then appear. It continues over and over and throughout the day. Through the paint the bag, Léo tries to express those mixed thoughts and people of shibuya crossing."
Léo Yamada is a Japanese contemporary artist born in 1990. During his childhood he was influenced by his grandmother who was a painter and art teacher. When he was 15, the Keith Haring Museum was built next to his parents' house. The works in this museum strongly influenced him. Today, he draws his inspiration from Japanese pop culture, his personal history, and pop art.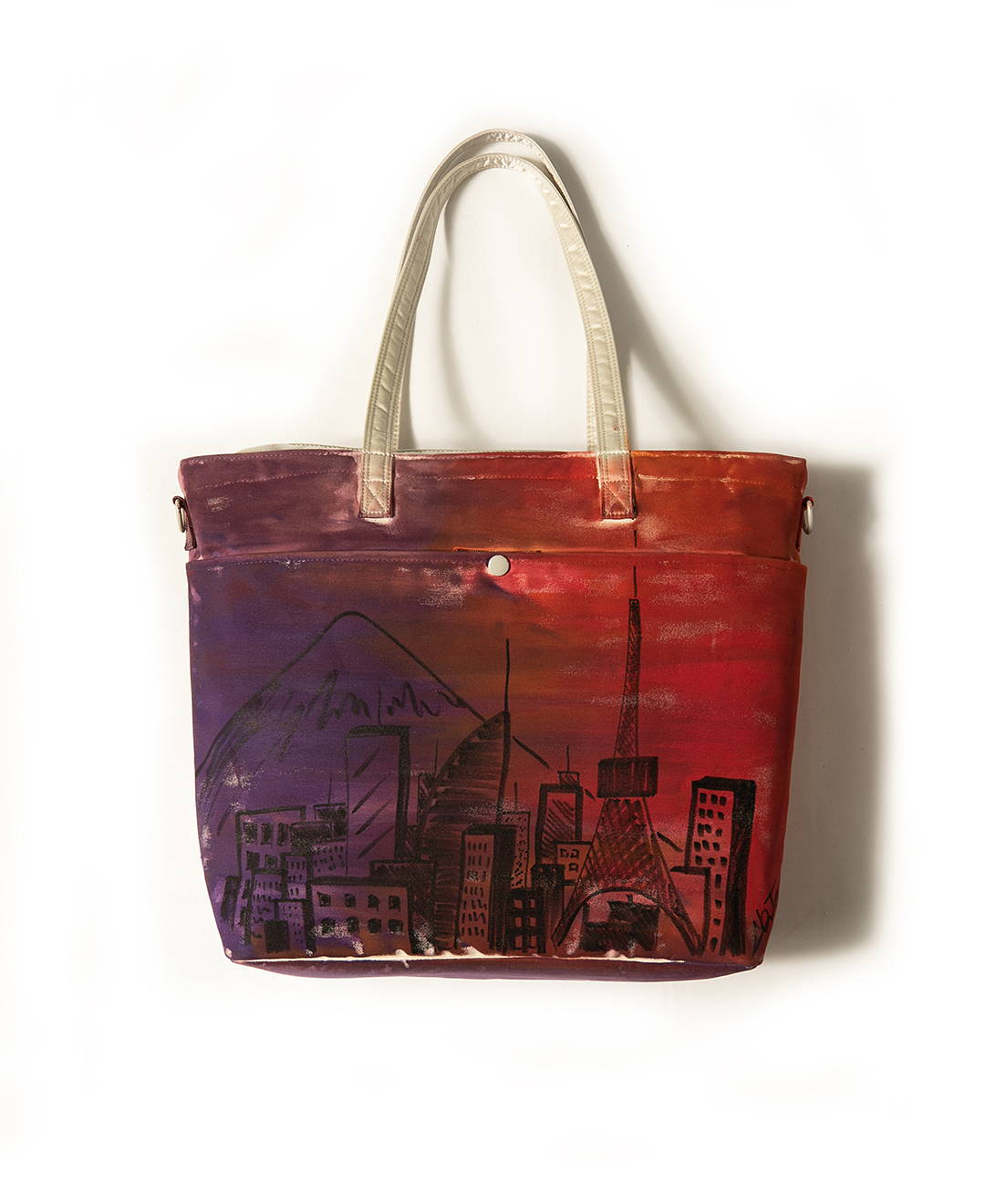 "The customization took place by mixing warm watercolors with a fixing spray, while the black drawing was made with an acrylic marker."
APJP, the acronym of Alberto Panocchi and Joelle Pomioli, is an artistic project created with the aim of upcycling forgotten denim, thus finding the way to give new life to already existing garments. This vision of a circular economy has therefore led the project to develop a capsule that has seen the evolution of the project towards a real sustainable project. Today APJP is on the hunt for stocks of second-hand pieces to redesign their shape and identity. The vision includes huge respect for our mother earth, but the mission is to make sure that everyone can feel a bit like APJP by giving a second chance to the things we thought were meant to be thrown away.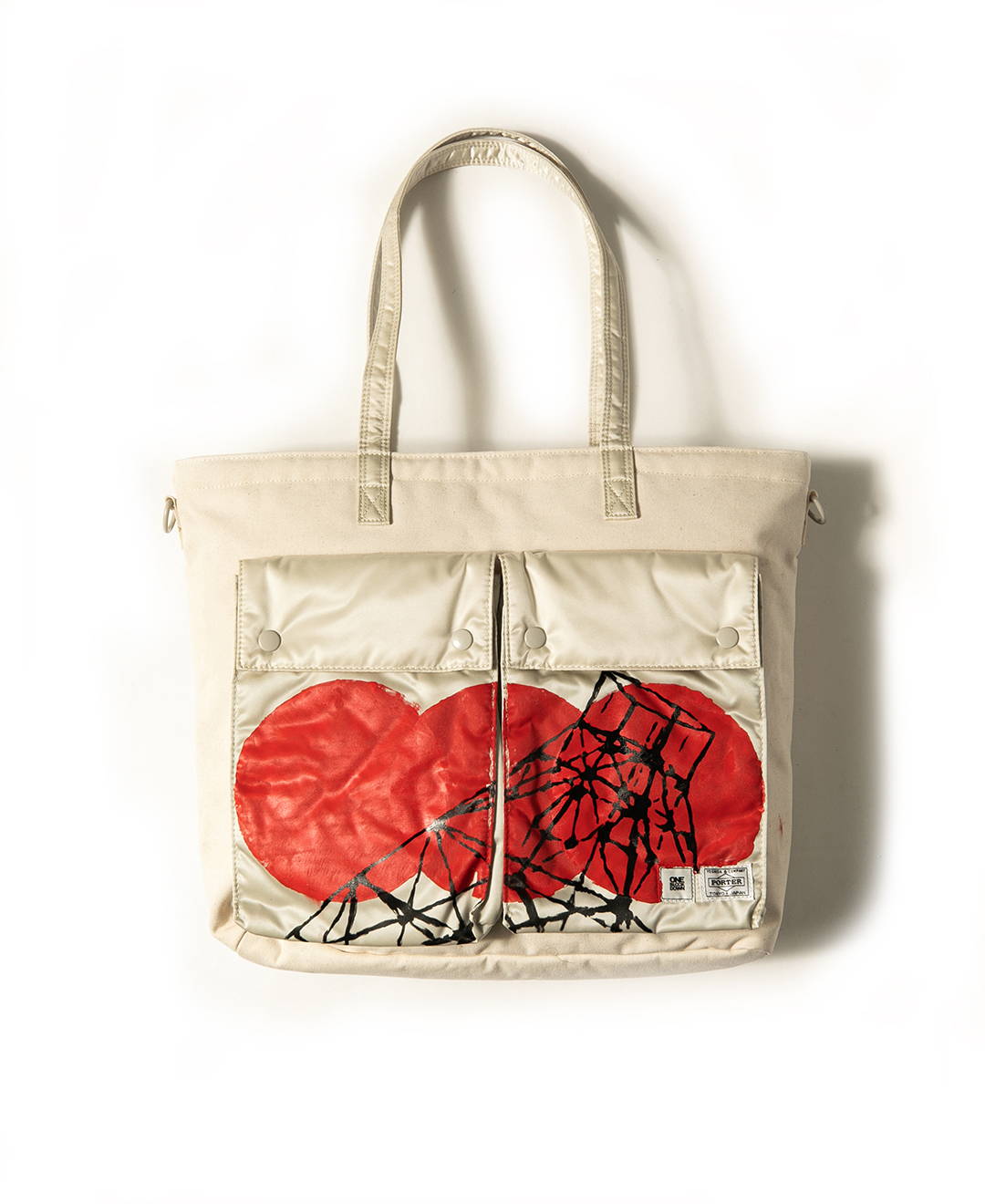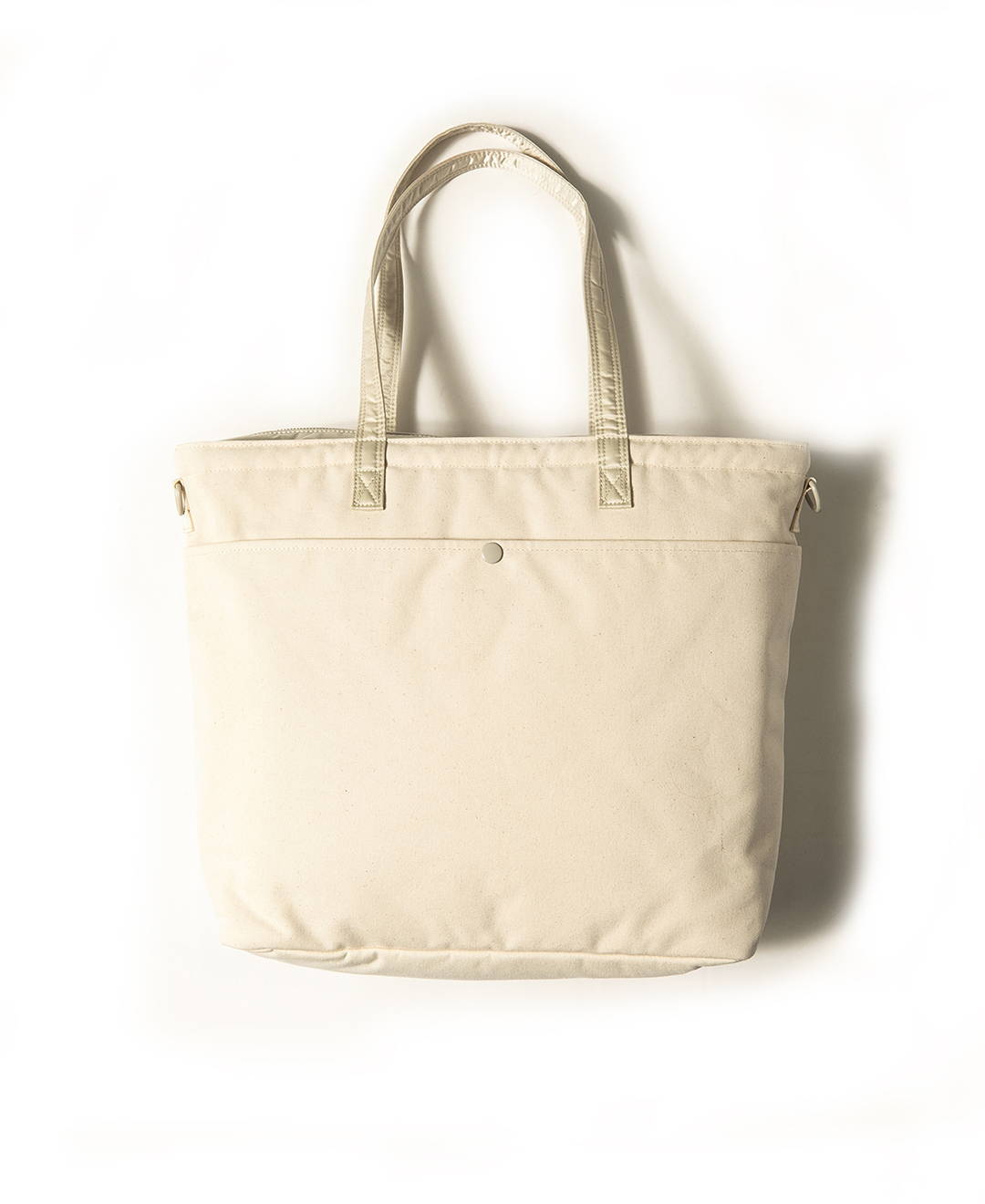 "The tribute to the Sanrizuka struggle is not a political act, in fact, I think that inside the images and the stories that I could find, there is a lot of the Japanese culture. I've been so fascinated by the aesthetics of banners and slogans, the discipline and dignity of the protesters that have been transformed into a sort of army with very precise characteristics. So I decided to use the symbol of the Sanrizuka struggle (three disks in sequence) and to combine it with the flag of Japan, using the result as a triple rising sun behind a steel tower, very significative in the construction of the airport where the struggle is still ongoing."
Tommaso Arnaldi (1993) is a Rome based Director, Art Director and Video-Artist. He started his career in the famous Italian Trap group Dark Polo Gang in the role of Creative Director, Graphic Designer and Videomaker. From 2021 with Francesca Pionati he started an artistic duo project, VEGA, that works with many Italian institutions. Their practice starts from discovering hidden stories in the sub-cultural panorama of the last century, working with archive materials their research tries to bring in the contemporary what is hidden by the dialectic of the mainstream, using video deconstruction, performance and speculative experiments.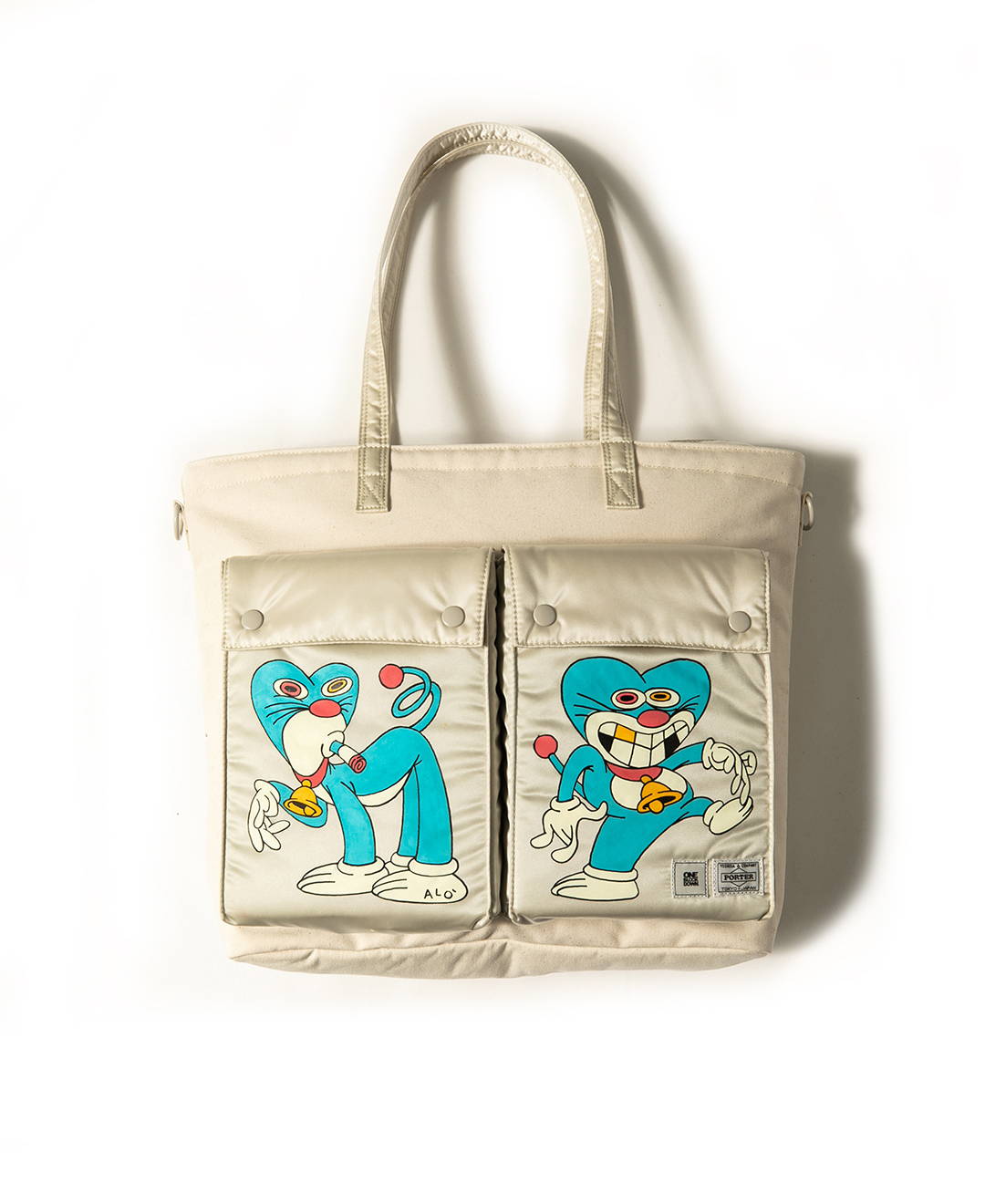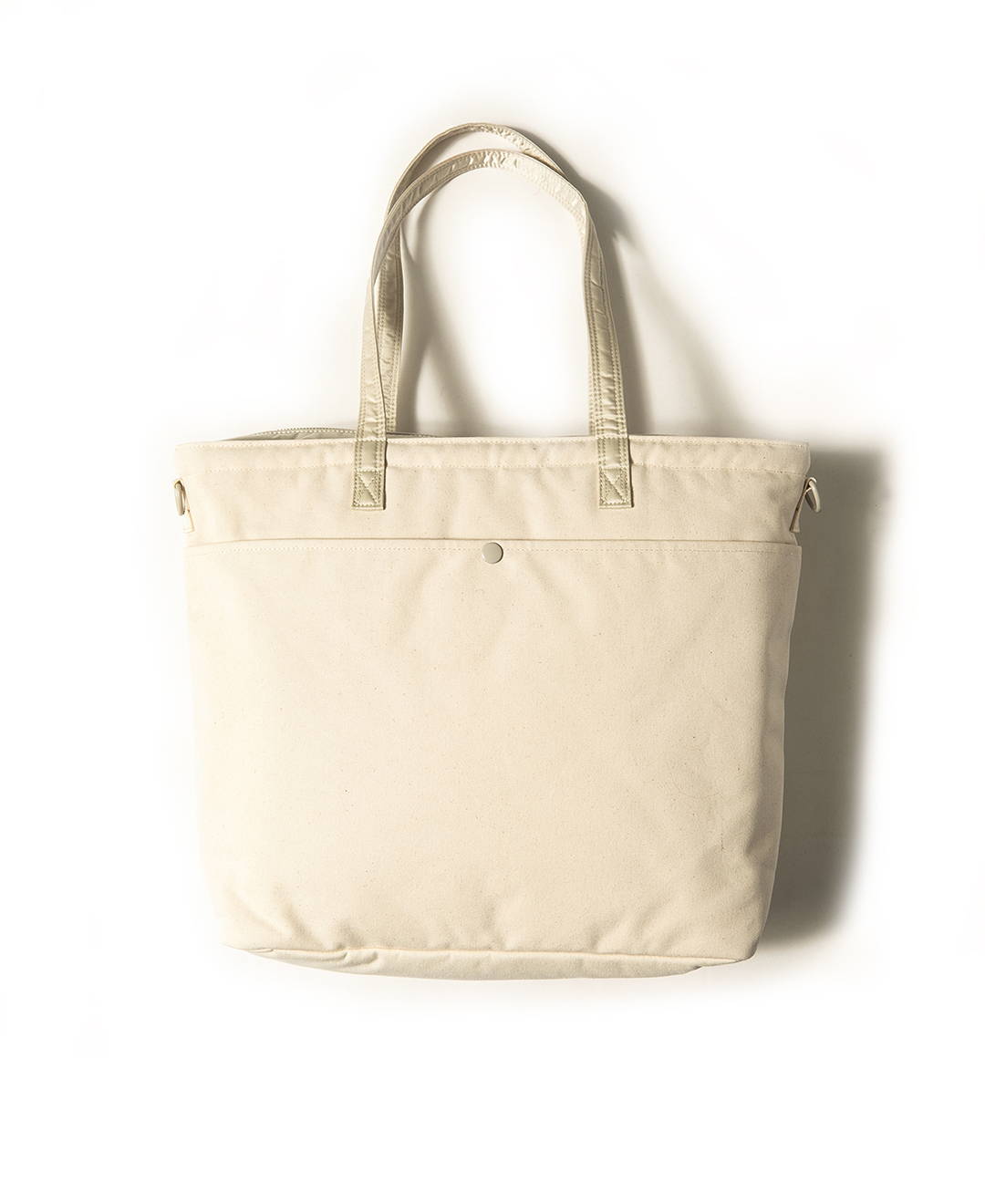 "Motoo Abiko, co-creator of Doraemon along with Hiroshi Fujimoto, passed away on April 7th.
I decided to pay homage to the two artists with my version of the character.
Both representations are made of acrylics and enamels."
Giacomo Fumagalli, aka Aloha Project, is an Italian illustrator born in 1994.
Born in Varese, since childhood, he has cultivated his passion for drawing, encouraged by his parents, who are art lovers. He attended the art high school in Varese and came into contact with the world of graffiti and writing, starting to lay the foundations of his artistic style.
In this period, he was strongly influenced by the American lowbrow scene, the aesthetics that accompanied table sports, toys, and above all by those writers who discovered themselves from the fanzines stolen here and there.
After high school, he attended the European Institute of Design in the illustration and animation course, moving to Milan.
Aloha's style is recognizable wherever you meet it, from canvases and graffiti to animated video clips. His works have been exhibited in Los Angeles, Paris, Barcelona, ​​Sydney, Kyiv, and Milan, and he has had the opportunity to work for Nike, Adidas, Universal, and many other companies related to the world of publishing, streetwear, and entertainment.
In the Italian music field, he collaborated with Belize to realize the Superman video clip, released in 2017, and with Night Skinny for the video of 6 A.M. featuring Izi and Gué Pequeno, released on May 16, 2018, extracted from the producer album Pezzi.
In February 2020, he curated the video of Guidando forte, a song by Side Baby, and Psicologi produced by Night Skinny, which is part of the double single Psyco Side.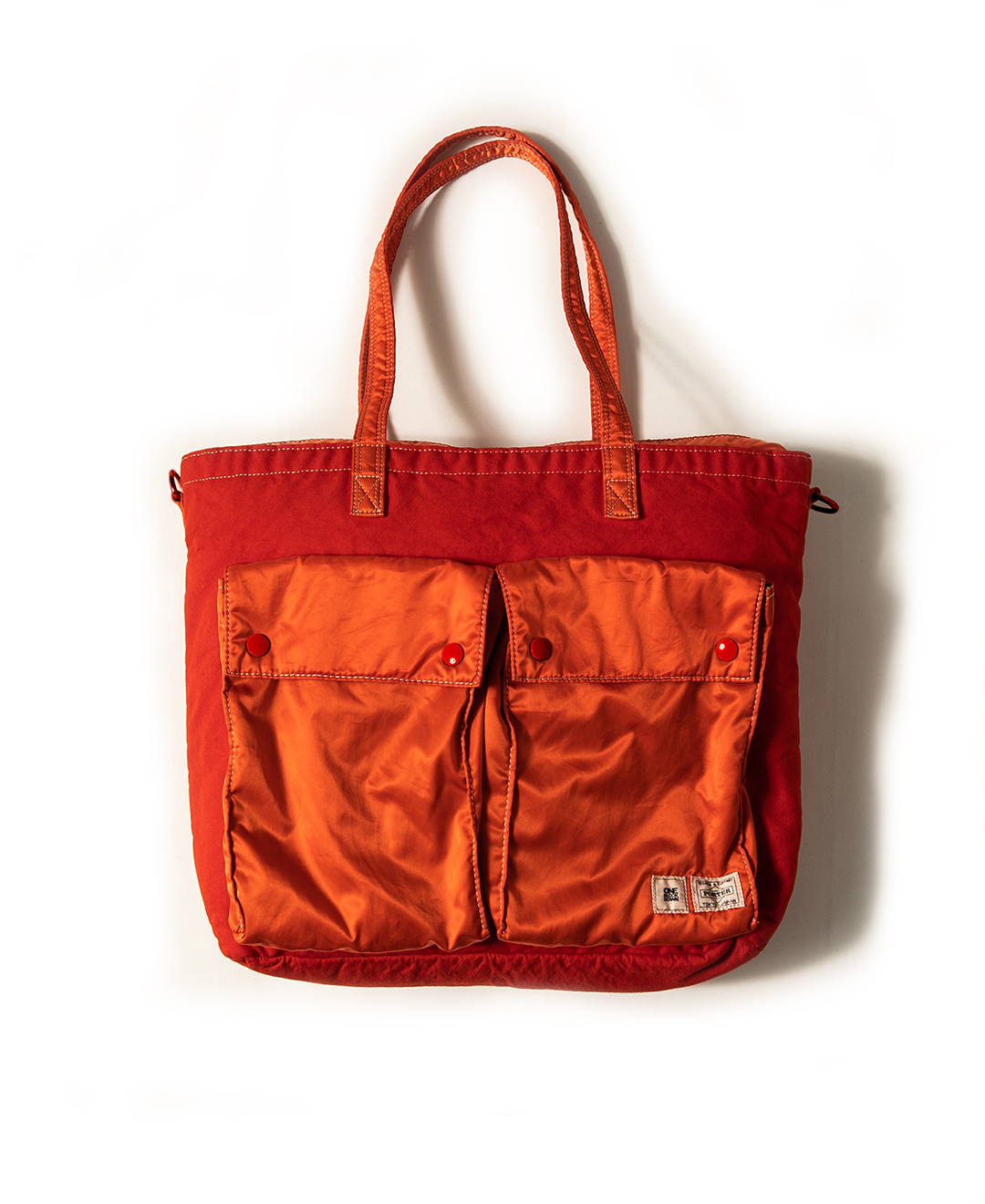 When looking to customize this bag, One Block Down wanted to present a balance between a technique and a symbol that could both represent Japan.Because of this, we looked into the ancient history of dyeing in Japan, deciding to use a new contemporary technique, garment dyeing, to present this historical way of working fabrics, which has been part of Japanese culture since the Edo period.After identifying the technique, One Block Down looked at what could be the color to represent Japan better and immediately thought of an intense red.
Red in Japan is not only the color of the sun, as visible from the Japanese flag, but it is also a sacred and ritual color that protects and purifies from evil spirits.
To receive updates on our latest editorials and documentaries, be sure to follow @oneblockdown on Instagram and subscribe to our newsletter below for more.
---