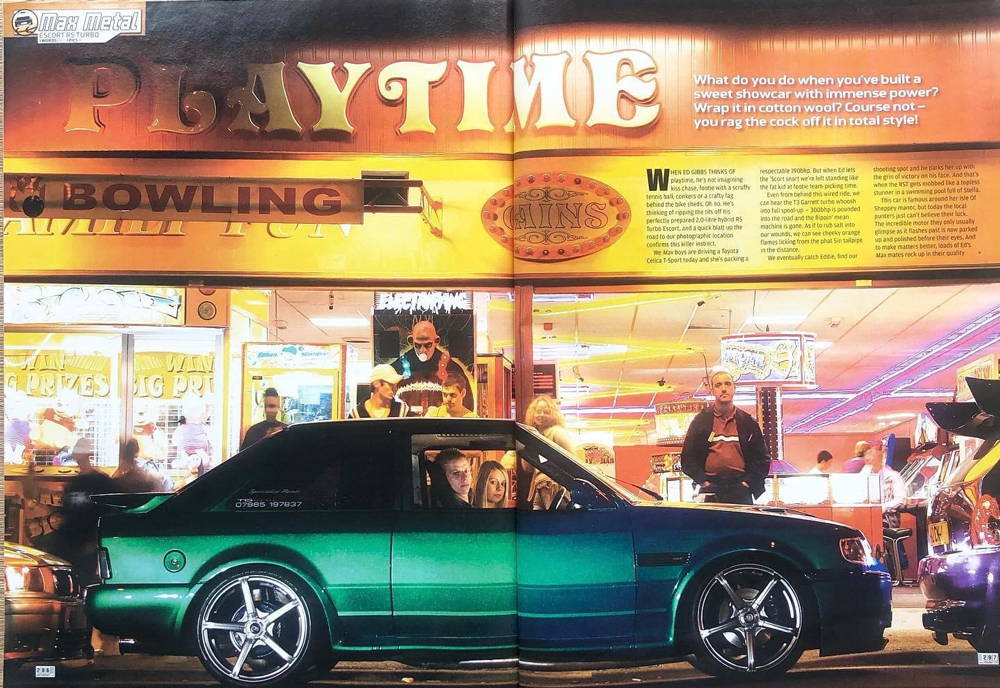 Taking it to the Max - UK Boy Racers and The Max Power Generation

The One Block Down editorial archive is an ever-evolving resource detailing the cultures, movements and ideas that defined contemporary stylistic discourse. From unique takes on today's leading pop-culture topics, to off-kilter stories that might have slipped through the net, our editorial archive is as fundamental as it is abstract.This latest editorial is part of our on-going partnership with content creator Samutaro.
When you're a teenager, there are many things you desperately want to find: friends, fun, a future, freedom. In post-war America, teenagers found all of that just by getting in their cars. Not just contempt with driving, young car owners of the 50s saw their vehicle as an extension of their personality — and as such they customised them to reflect their individuality and uniqueness.
Known as Kustom Kulture, the subculture saw teens strip down and soup-up their stock Detroit automobiles with minimalist constructions designed for speed and to communicate a love for it.
The influential movement which began in Southern California, inspired a whole generation of young people around the globe to kit up their cars and go cruising. From Japan's street racers to Greasers of Sweden, Hoons in Australia, Dougies from South Africa and Donks and Slabs back in the US, custom car culture is as much a part of youth culture as music and style.
One of the less documented examples is Britain's modified car culture, whose members trick out their vehicles to outrageous proportions, and meet together to show them off – a phenomenon that captured the zeitgeist of noughties Britain. On any given weekend, in semi-rural, suburban areas around the UK, gearheads - or boy racers as they are better known - would gather in empty trading estate car parks, or locations likeSouthend seafront at night, to show off their pimped out rides.
These organised meet-ups, colloquially known as cruises, brought together regional modified car owners along with hundreds of young automotive fanatics. The scene and everything that came with it - dump valve shooshes, plumes of burning rubber and the thudding bass of happy hardcore, jungle and bassline - was pure adrenaline inducing for the crowds of spectators that came to watch.
"I remember fondly turning up to the Thurrock cruise in my R32 GTS-t – modded to the max on 19-inch Volk Racing TE37s, full Do-Luck kit and Shimmering Violet Pearl House of Kolor paint – with Jamie Shaw from Carisma as my Max wing man," recalls Dan Anslow, an ex-staffer of Max Power and the co-founder of the online communityMAXERS. "The car park was heaving and Jamie said, "can I do some donuts?" Naturally, Anslow granted consent and the RK Tuning-built 2.2-litre, T34 roller bearing turbo-powered RB soon sang its boosty tune and the Toyo Proxes lit up like a smouldering Christmas tree. "The crowd loved it, and for that moment we were the cruise dons," he says.
While the setting might sound like a scene from The Fast and The Furious, these modified cars (for the most part) weren't quite as showstopping as the finely tuned JDM's depicted in the 2001 Hollywood film. Instead, what you could typically expect to see were affordable European cars transformed into something unique and expressive of young British working class pride and outsider identity.
Though 1950s SoCal hot rod culture and British boy racers are split by more than 40 years and 8000 miles, Inman says the defining ingredients are exactly the same. "In post-war California optimism, rabid expansion and a consumer-led manufacturing boom, coupled with the trickle down of a massive boom in car sales fuelled the original car culture," he explains. "In the mid-late 1990s Britain, credit was readily available, car insurance not astronomical, new car-based technology affordable. As a nation we were giddily enjoying the highs of an all-too-brief boom time."
What unites these two scenes even more is the pure unadulterated devotion to modifying, redesigning, and, ultimately reinventing stock cars. Emerging from a street level, as opposed to corporations (though they would catch on), the movement was driven by working and middle-class men doing what they chose to solely impress peers. " Individuality – the kind of mass individuality that regular lads want – was what it was all about," says Inman.
When the UK custom car scene first exploded in the early 90s, drivers initially began modifying classics like Ford Escorts, Vauxhall Novas, VW MK1 Golfs, Renault 5 Turbos, Peugeot 205s, 306s and if you had enough bread, BMW e30 325i with racing-style aftermarket cosmetic and performance parts. These early days came with humble mods like lowered suspension, body kits, loud exhausts and upgraded in-car entertainment, like state of the art stereos powered by rib cage rattling subwoofers. A good cruise would finish with a Ford Sierra Sapphire Cosworth, tuned to the power of 300-hp, with a big-bore back box blowing flames.
Credits Nick Cunard/Museum of Youth Culture via Hypebeast
It wasn't until the latter end of the decade that the more ostentatious modifications arrived. "This was a time when a £3500 donor hatchback could easily have £20,000 spent on it,"says ex Max Power staffer Gary Inman on the peak of the UK scene in the early 00s. This new dawn of car culture arrived with new car models. Vauxhall Corsas, Citroen Saxo VTS, Fiat Punto GT Turbo, as well as occasional JDM models like Toyota Supra, Honda Civic, Subaru Impreza 22B STi were transformed, sometimes unsuccessfully, into speedbump-avoiding expressions of their young owner's peacockery.
As the HP bracket went up, so too did the peacocking and outlandish spends on modifications. "£5000 'installs' were so commonplace they wouldn't raise an eyebrow. An Astra could end up with more TV screens than a bookies, routinely showing the modifiers favourite film, The Matrix," says Inman. The influence of the Fast & Furious franchise, Pimp My Ride, along with street racing games like Need for Speed, only spurred the wave further. Insane widebody kits, NOS-injections, neon under-lights and pearlescent paint jobs became the norm.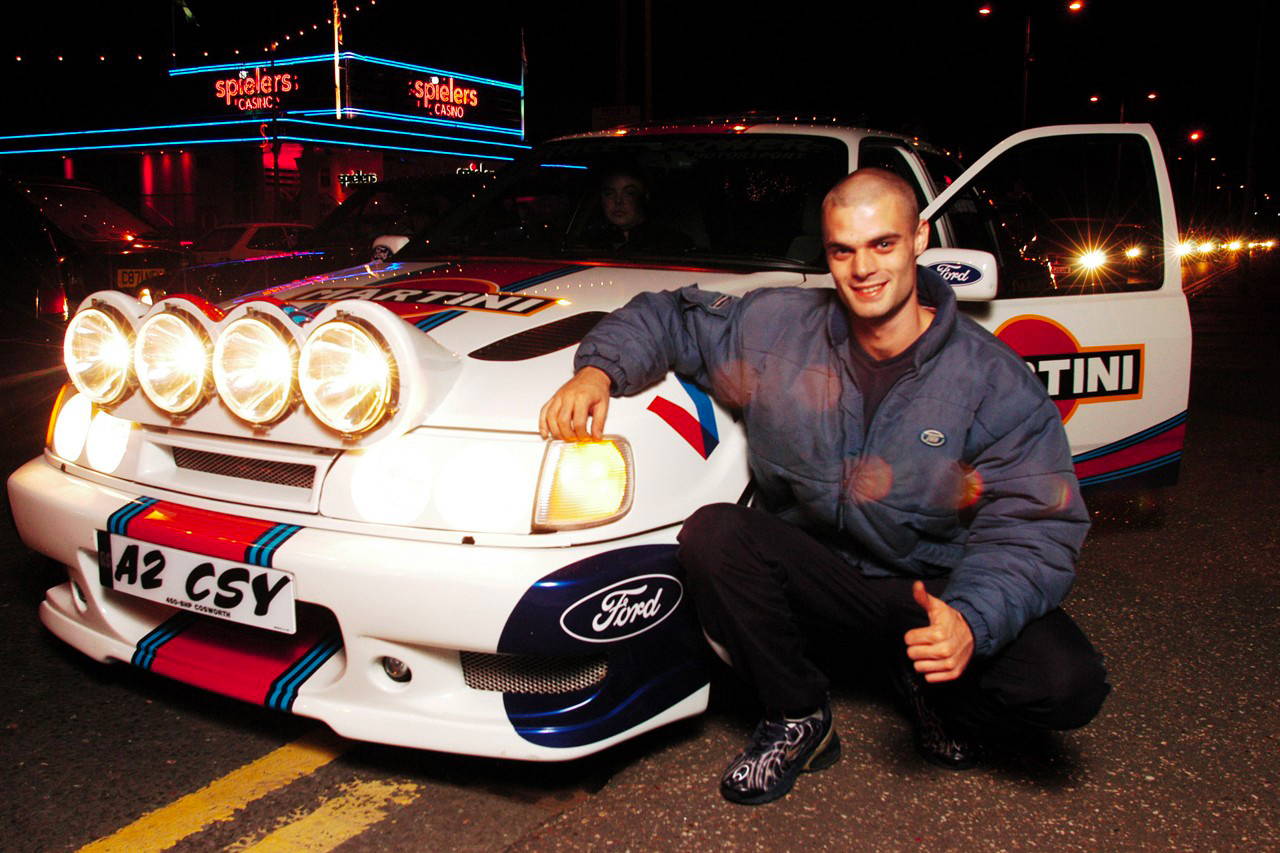 Credits Nick Cunard/Museum of Youth Culture via Hypebeast
Max Power magazine was the epicentre of this subcultural phenomenon. Originally started in 1993 by Graham Steed and infamous photographer Fly, the publication became the ultimate bible for a new generation of high-octane enthusiasts. Packed with cutting-edge project cars, In-Car Entertainment and rudimentary soft pornography, Max Power not only offered readers an A-Z in car tuning, but for many it was also a startling introduction to adult education too.
Anyone who grew up reading Max Power, or at least remember seeing it on the topshelf of your local newsagent, will recall it sitting alongside other "lad mags" like Zoo, Loaded and FHM. At their height, these publications were a cornerstone of British adolescence - Max Power itself was a multi-million pound business with a dozen or more magazines feeding it, the largest of which was selling a quarter of a million copies per month.
"The Max lads were a national tribe, instantly recognisable, not by their JD Sports attire, but by what they chose to acquire mountains of debt to drive," says Inman. The popularity of Max Power, turned the title into a culture within itself. Max Power culture became a byword for the subculture of these young automotive fanatics racers, perhaps a more fitting title than "Boy Racer" brandedby sensationalist tabloid media.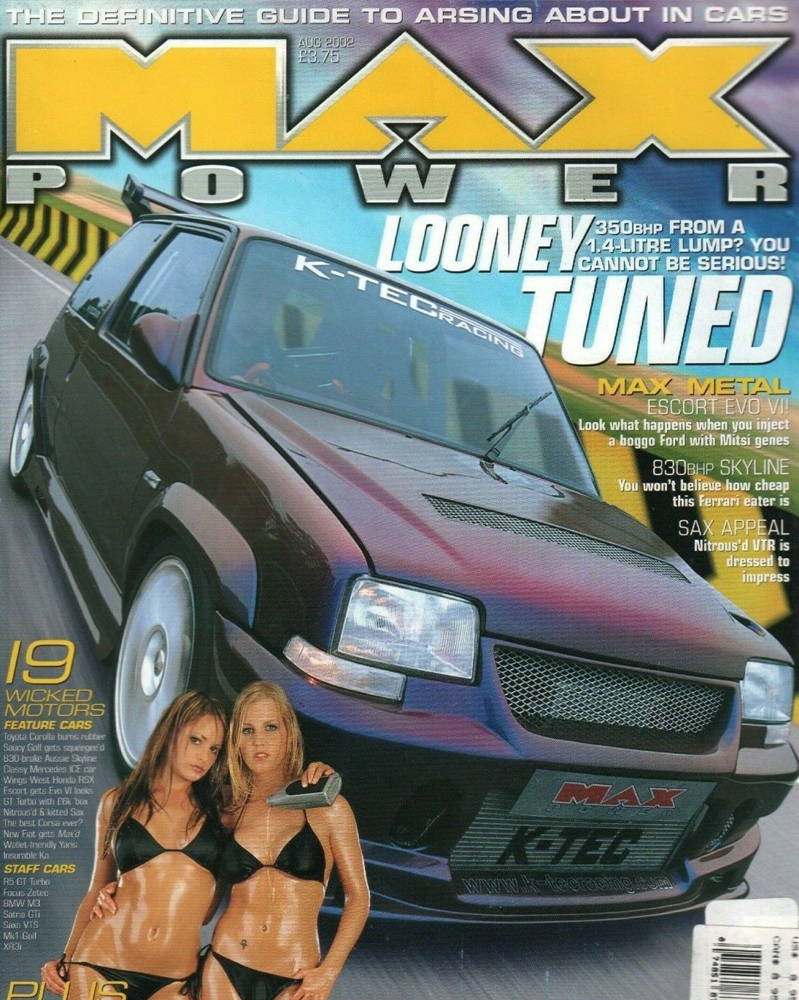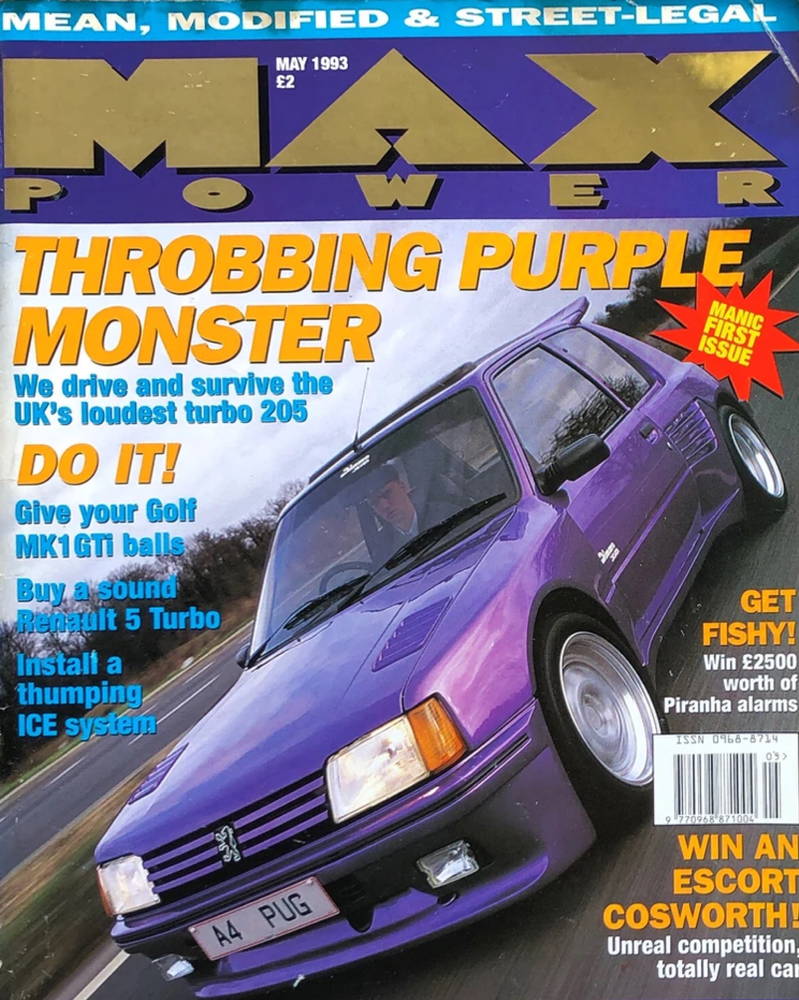 Though there was a revolving door of editors in the late 90s, it was John Sootheran's stewardship in 1999 that saw things explode. Japanese tuning culture was exposed, the first Max Power Live shows at the Birmingham N.E.C took place and the girls featured in the mag lost even more of their clothes. Cruising was in its prime, the cars being built were like nothing anybody had seen before and the sales of the magazine hit an all-time high. The automotive world – which had previously seemed reserved for middle-aged men – became simultaneously aspirational and subversive.
But as fast as the scene exploded, it burnt out just as quick. Inman believes much of the scene's demise wasn't down to men losing interest in cars, but rather being tarnished with the bad public image surrounding custom car culture at the time. "This overtly ostentatious representation – loud paint, loud exhaust, loud bass, was inextricably linked with the kind of lads people were now calling chavs," he says pointing the anti-social behaviour and increasing perceived risk to pedestrians that was tarnishing the scene.
With a growing number of collisions and high-risk situations among young drivers in the UK, It's unsurprising, then, that both the media and public became increasingly wary of boy racers. police cracked down. Though cruises were mostly harmless with only the occasional burnout or a bird whipping her melons out, some did end up with vehicles stolen or set alight. The British government attempted to force them out of town centres with surveillance, and the cops spent their nights hunting them in unmarked cars.
The community was further demonized and vilified by the press, which largely chased the subculture out of relevance by the mid-to-late 00s. On top of that, culture at large was poking fun at the scene too. Inman points to films like Ali G "Indahouse" as well as Max Power's very own Vauxhall saloon wrapped in Burberry's house check and renamed the Chavalier as the final nails in the coffin. "No one wants to proudly debut their car down their local High Street only to hear calls of, Oi, Ali G, nice car!, followed by a soul-destroying forced laugh," he says.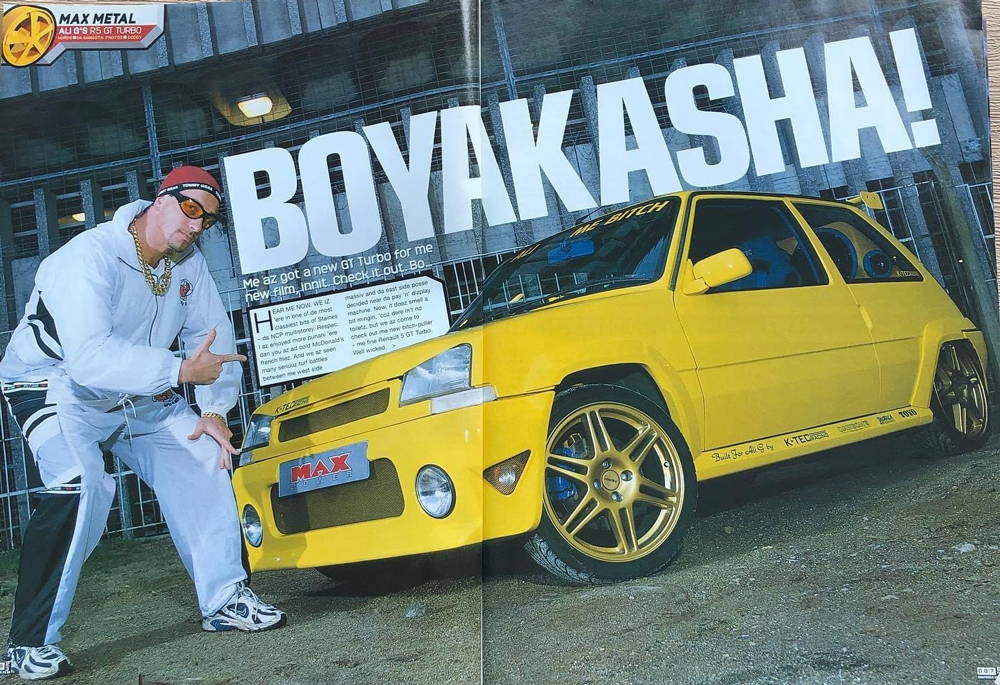 20 years on from its heyday, the scene is a shadow of its former self. "There are still stalwarts modifying cars, but it's far more fragmented, tiny in comparison, an older scene and not more restrained, but certainly more tasteful, says Inman. While Drift culture, Slabs, LowRiders and Donks continue to boom in the states, even the revival hot rod scenes is thriving, the same can't be said about UK car culture. Though he isn't losing sleep over the extinction of the Max Power lad, Inman says he is sad that no motor culture seems to have filled the void.
But there are some signs of a revival. The popularity of second-hand cars is rising in tandem with the renewed interest in 00s culture. "Just like there's a revival in youth subcultures, people are also looking back at vehicles. People want to buy a piece of their past," Jamie Brett, a car tuning fanatic and now the creative projects manager for theMuseum of Youth Culture explained toHypebeast.
Anslow believes that although there might not be the appetite for Max Power culture as there was 20 years ago, it isn't completely dead. He continues to regularly post and report on MAXERS, the spiritual successor to iconic magazine, while organising regular meetups in old haunts like Southend On Sea. "We may have been told we're not allowed to like looking at top totty or it's against some law to meet up in car parks at night, and we may be in a world that doesn't want the irreverence of Max Power. But, sod it, let's bring it back in spirit anyway and see if all those readers and advertisers who loved Max Power before want to get the modified car scene invigorated again and bring some new MAXERS along for the ride."
To receive updates on our latest editorials and documentaries, be sure to follow @oneblockdownon Instagram and subscribe to our newsletter below for more.