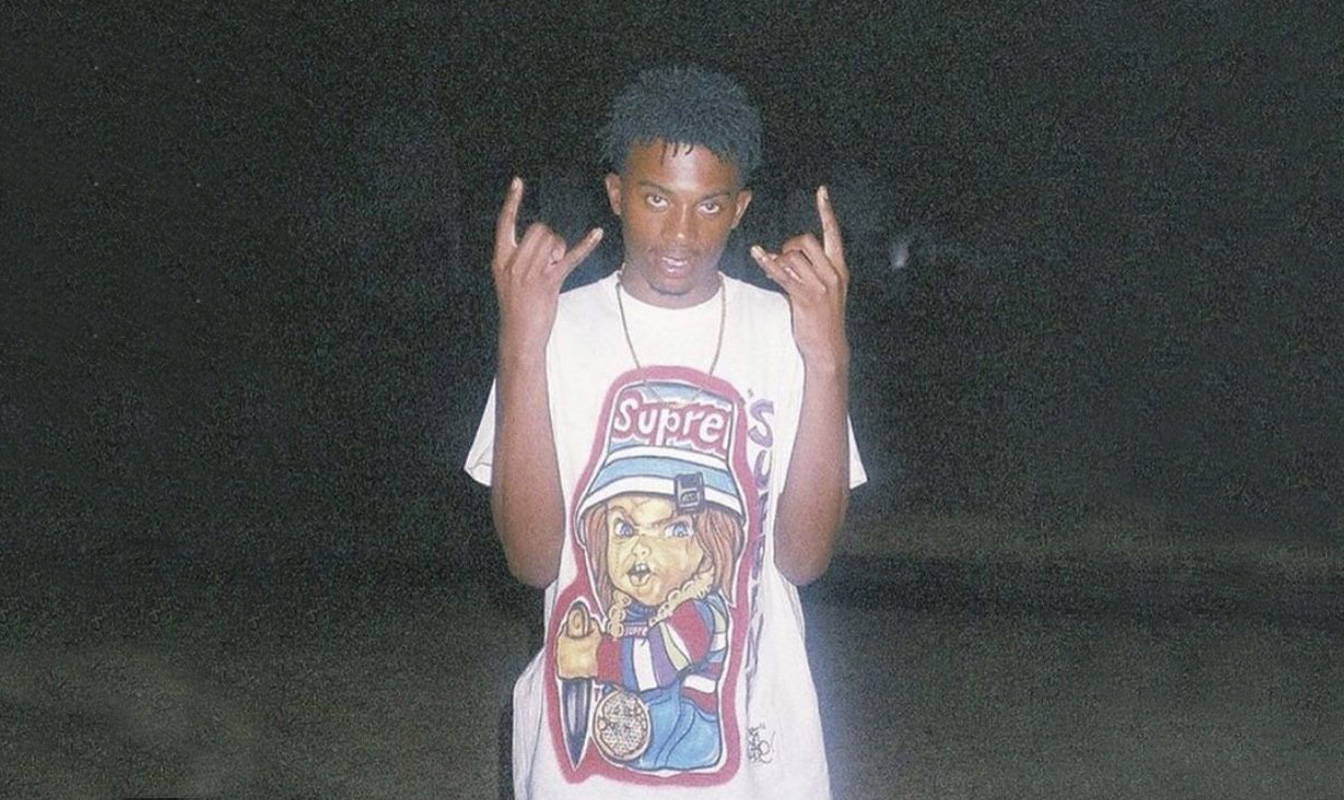 The One Block Down editorial archive is an ever-evolving resource detailing the cultures, movements and ideas that defined contemporary stylistic discourse. From unique takes on today's leading pop-culture topics, to off-kilter stories that might have slipped through the net, our editorial archive is as fundamental as it is abstract.This latest editorial is part of our on-going partnership with content creator Samutaro.
The t-shirt might be one of the most simple and modest garments in our wardrobes, but equipped with the right message or visual cue it can become one of the most powerful forms of self expression. Beginning in the 50s, t-shirts became a canvas for people to express their individuality and authentic selves. Back then, plain white t-shirts transformed into tie works of art proclaiming the rise of "flower power" and urging society to "Make love, not war." Soon, messages began appearing on T-shirts using silk screening or screen printing. Bands began selling branded T-shirts to their fans at concerts, and young people began wearing band T-shirts as a symbol of their personal identities.
While silk screening or screen printing has been one of the most effective ways for individuals to get their messages out there, some have looked to more creative methods to apply their art. Legendary automotive artist Kenny Howard aka Von Dutch is credited as one of the first to apply airbrushing techniques to t-shirts. Famed for his custom pinstripe jobs on hot rod's during the 1950s, the California artist helped shape the style and culture of Kustom Kar building with his trademark flying eyeball, flames and his own signature script.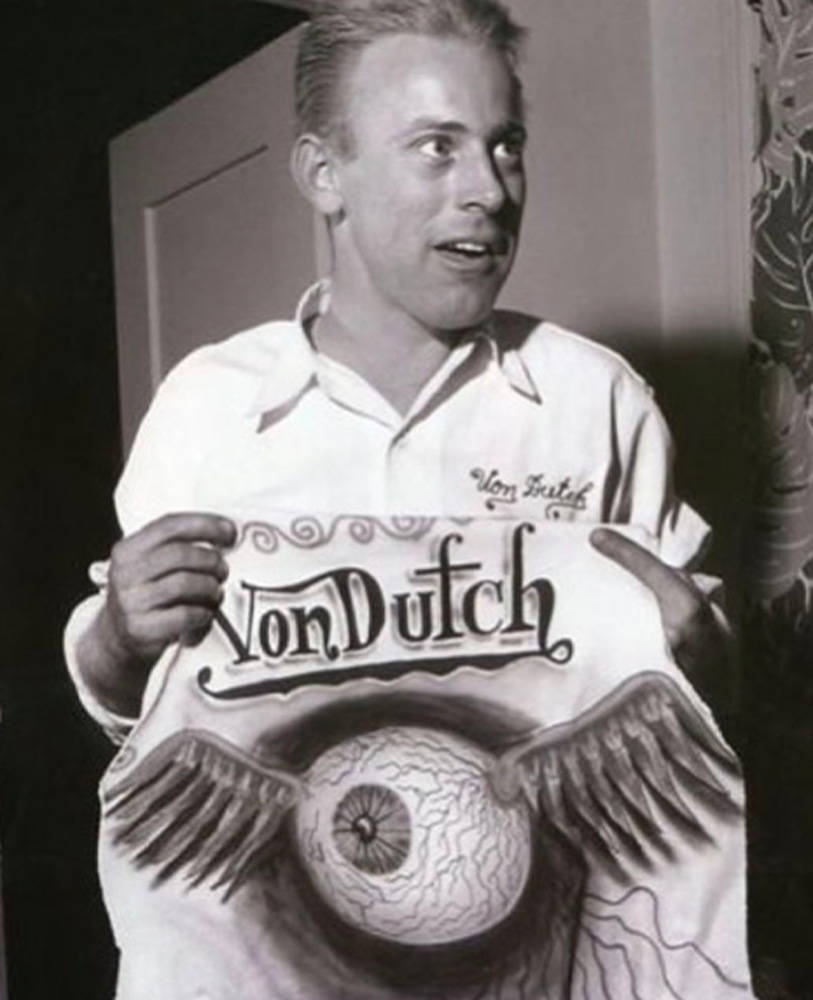 At the same time, influential artist Ed "Big Daddy" Roth was helping further bridge the crossover between cars and clothing in Kustom Kulture with his weirdo hot rod art. Like Dutch, Roth had picked up airbrushes while working on cars, but would later transition his extraordinary paint jobs onto t-shirts. Roth's illustrations were unlike anything that had come before. He was best known for his grotesque caricatures — typified by Rat Fink — depicting imaginary, out-sized monsters driving representations of the hot rods that he and his contemporaries built.
Roth began airbrushing and selling his "Weirdo" t-shirts at car shows and in the pages of Car Craft magazine as early as July 1958. By the August 1959 issue of Car Craft "Weirdo shirts" had become a full-blown craze with Roth at the forefront of the movement. The article featured Roth along with fellow Kustom Kulture pioneers Dean Jeffries and Pete Millar.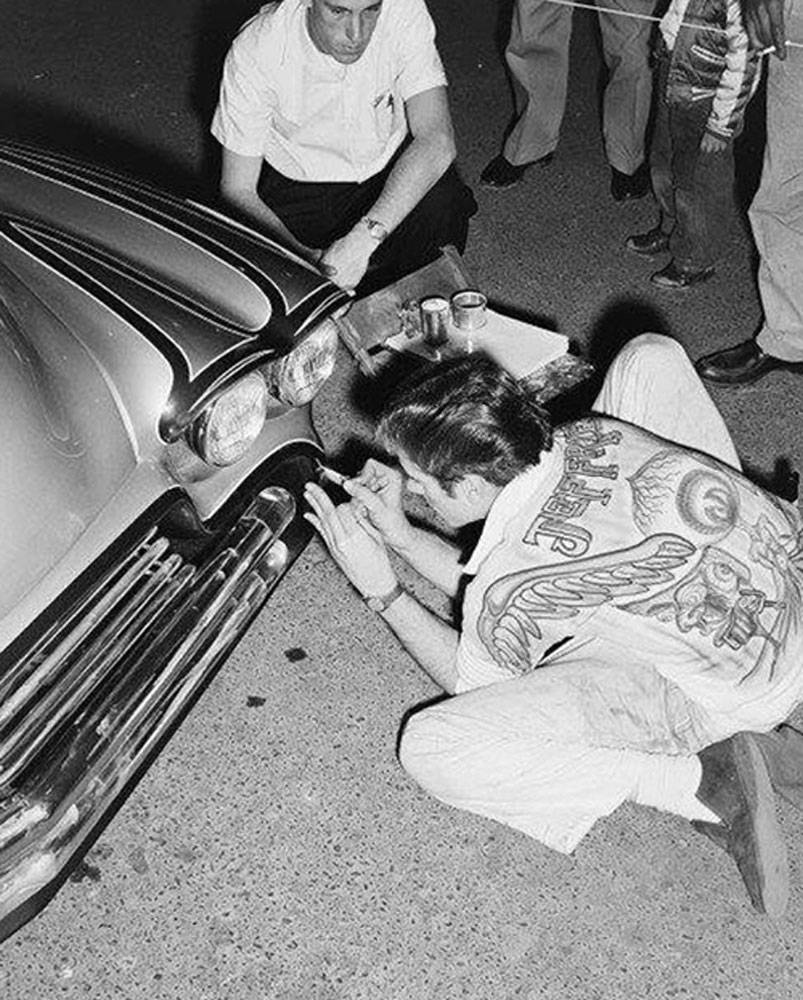 Inspired by Roth and Barris Kustoms (whose shirts were airbrushed by Dean Jeffries), Detroit native Stanley Miller, a.k.a. "Stanley Mouse", began advertising his own shirts in the pages of Car Craft in January 1961. The lesser-known Rendina Studios of Detroit and Mad Mac of Cleveland also joined in on the monster "Weirdo" shirt craze, helping build the subculture into a wider art movement that has since been exhibited in major art institutions around the globe.
It wouldn't be until the 1980s that airbrush art caught its second wave in counterculture when a group of graffiti artists in New York City moved from the walls to t-shirts. Known as The Shirt Kings, founders Edwin "Phade" Sacasa, Rafael "Kasheme" Avery, and Clyde "Nike" Harewood, took airbrush art to a whole new level by adapting the graffiti skills they had learnt on the streets and expressing it in new ways.
Airbrush was just the thing to allow for a smooth transition to a new kind of surface. Customized jackets, jeans, sweatshirts, and t-shirts, became the means to express yourself. It was the Shirt Kings who took this form to its highest heights, by becoming the first black clothing line straight from the streets. Some state that the Shirt Kings did for hip-hop what Vivienne Westwood's SEX in London did for punk back in the 70's. "The style of clothing they pioneered is so iconic that it has become synonymous with the place and the time from which it sprang, a zeitgeist in the making as no one could have ever predicted, not even the artists themselves," saysMiss Rosen.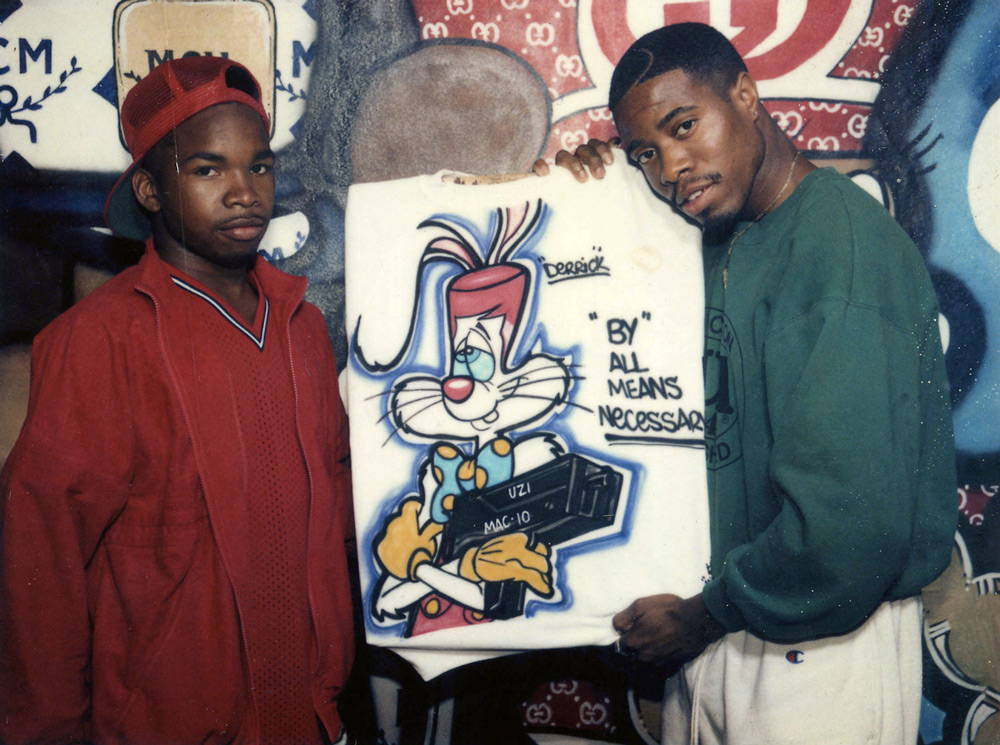 Based out of a cosy booth in South Jamaica's infamous Colosseum Mall, the artists produced hyper-personalised tees sprayed with loud, colourful cartoon imagery depicting familiar childhood characters, but with a distinctly New York lean. Think Mickey Mouse with a Fila suit, Casper the Friendly Ghost with gold teeth, Roger Rabbit with a flat top fade and Pink Panther with gold chains and guns.
The influence of the art collective cannot be understated. Their custom airbrush designs became a fashion statement made popular by the hottest rappers and DJ's of the day. From appearing on record covers like Just Ice and Audio Two to the stage of the Latin Quarters, their shirts were hot property for any emerging or established artist, whether it was LL Cool J, Jay Z or Big Daddy Kane.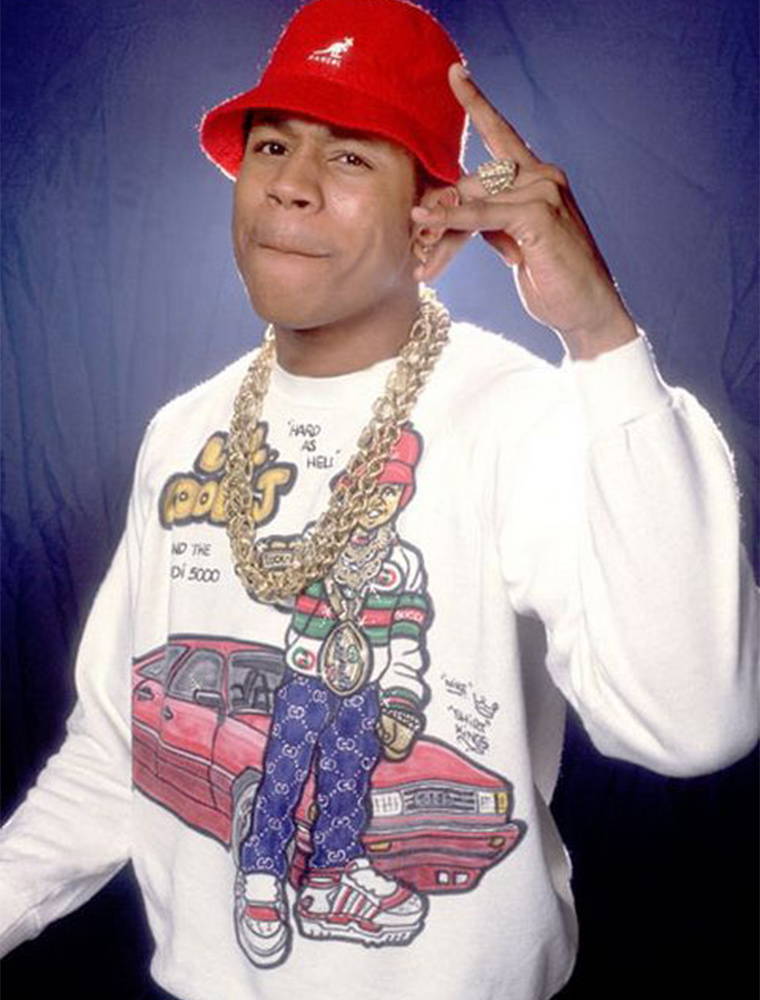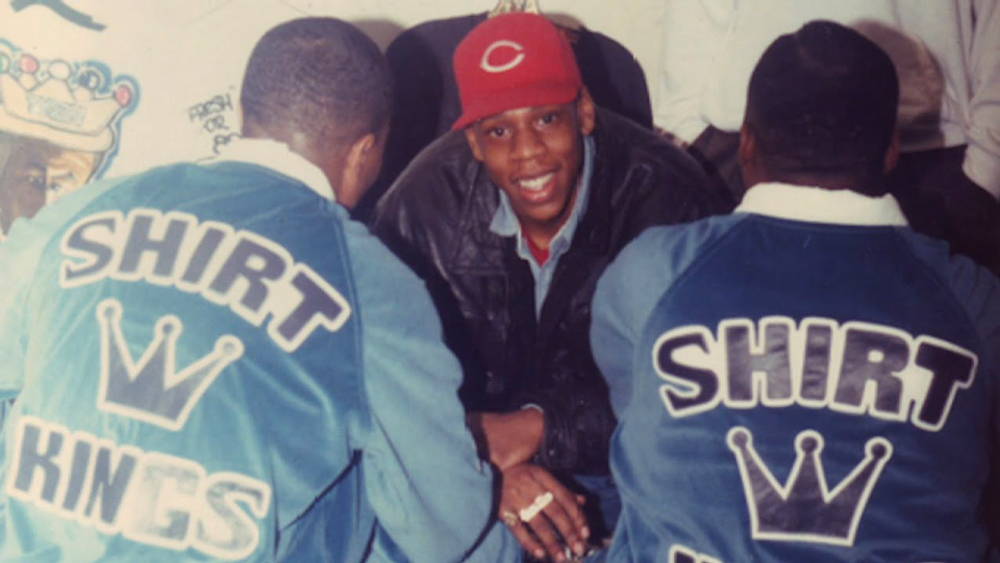 According to Miss Rosen, Jam Master Jay, a personal friend of Kasheme, came through to the opening with a crew of at least fifty. "Back in the days, as hot as Hip Hop was, it was still of the people and it was grounded in the art form itself; it has not yet gone pop, had not yet hit the suburbs, or transformed into an international powerhouse," she says. "Back in the 80s, Hip Hop had an edge and it was a language spoken in the art, the dance, the music, and the lyrics."
As the Shirt Kings' business took off their style was copied across the Northeast and they themselves expanded and covered Miami. In fact, Hip Hop became so prominent in the late 80's and early 90's that companies like Disney and Warner Brothers, brands that the Shirt Kings parodied, created an urban version of their characters to sell their own merchandise.
Today, Shirt King Phade continues to honour the style he laid down some 40 years ago. His client list hasn't gone down either, counting commissions from influential names like YG, Dipset, and A$AP Rocky. Even Supreme tapped Phade for a series of graphics for the streetwear brands summer tees in SS14 (the chucky style was recently parodied by Ye) helping further cement their status as original streetwear purveyors.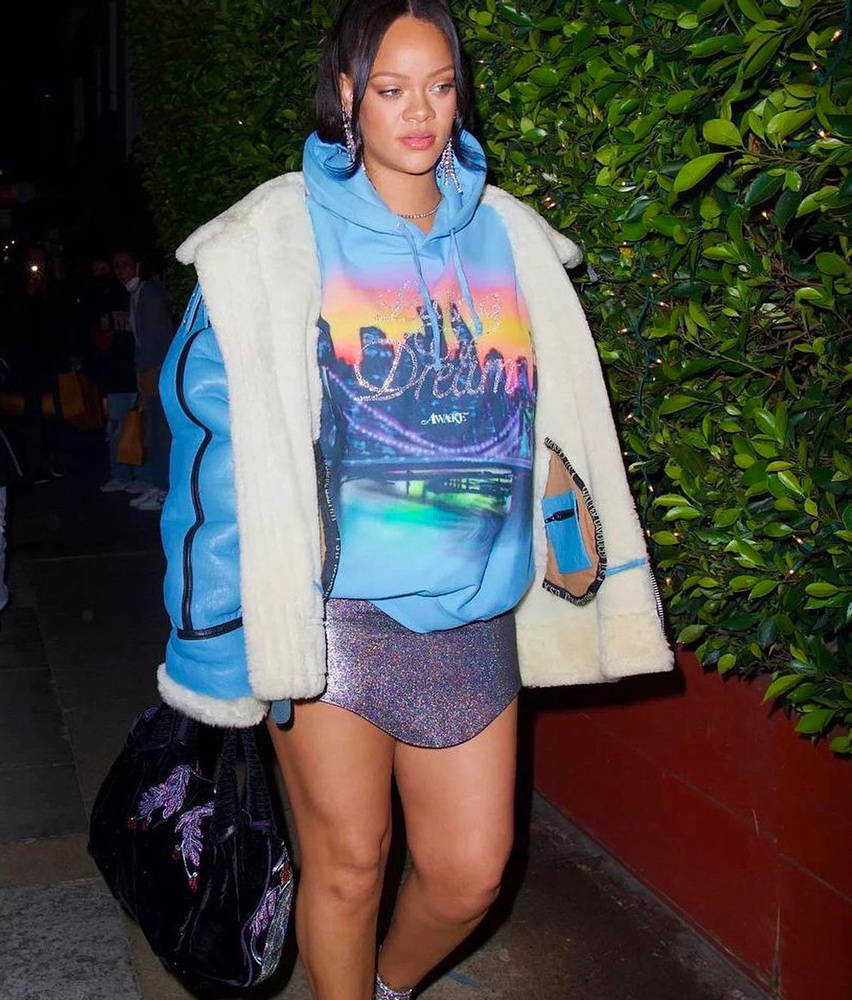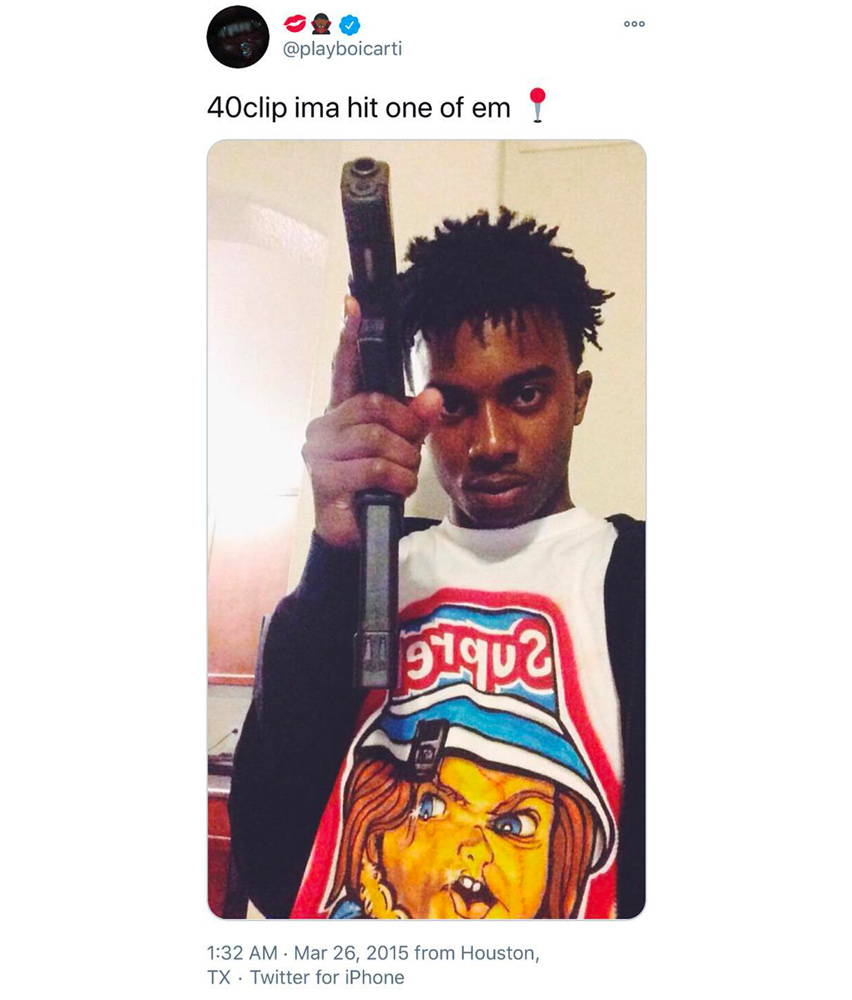 Beyond Hip Hop, airbrushed T-shirts have been adopted among African American communities as a momento to the deceased. Known as "commemorative T-shirts, or "R.I.P. tees", these memorial tees first emerged during the '90s as a way for family and friends to honour the passing of lost loved ones. Often airbrushed with portraits of the deceased, they have since become an everyday ritual of death in many American cities, like choosing a casket or sending flowers. The standard commemorative T-shirt is a white crew neck that bears, in vibrant, idiosyncratic detail, the name and visage of the dead. These shirts are commissioned by mourners, typically to be worn at funerals or other memorial gatherings in the first days and weeks after a death.
Shirt-making enterprises now thrive in areas where the homicide rates are high, including parts of the Los Angelese, Bay Area, New York, Washington, D.C., Miami and Chicago. Big City Fashions is one of the network of black-owned funerary proprietors in Chicago's South Side who help ferry the bereaved through the process of mourning the newly dead.
"It's a beautiful art, but it's pretty morbid," Christian Ray, an employee and airbrush artist at Big City Fashion told theNY Times. Often, the T-shirts he designs are for the very young, frequently victims of gun violence. "I love airbrushing, I love graffiti, but I'd rather make shirts to celebrate a graduation or a wedding, or, hell, even a picture of somebody's dog," he said. "But it is what it is. It's tough."
AsSFGate explains, the origin of R.I.P. shirts are a bit murky, but some entrepreneurs say the shirts originated in the South, during jazz funeral processions in New Orleans. Others trace R.I.P. roots farther, to West Africa and the Caribbean, where mourners often wear head scarves or handkerchiefs with the deceased's likeness on them, said psychologist Ronald Barrett, a professor at Loyola Marymount University in Los Angeles who has written extensively on African American funeral practices.
Naturally, R.I.P. shirts have been created in tribute to the rich and famous -- Rick James, Tupac Shakur, Sammy Davis Jr. each have their own. Rappers now sing about R.I.P. shirts, and big names like Drake and Kanye West have been captured wearing them too. West Coast-based airbrush artist Vince Osborne was responsible for Drake's tribute Selena T-shirt, while Kim Kardashian commissioned NYC artist Alan Pastrana to create Kanye's memorial featuring the Wests' late parents, Donda West and Robert Kardashian Sr..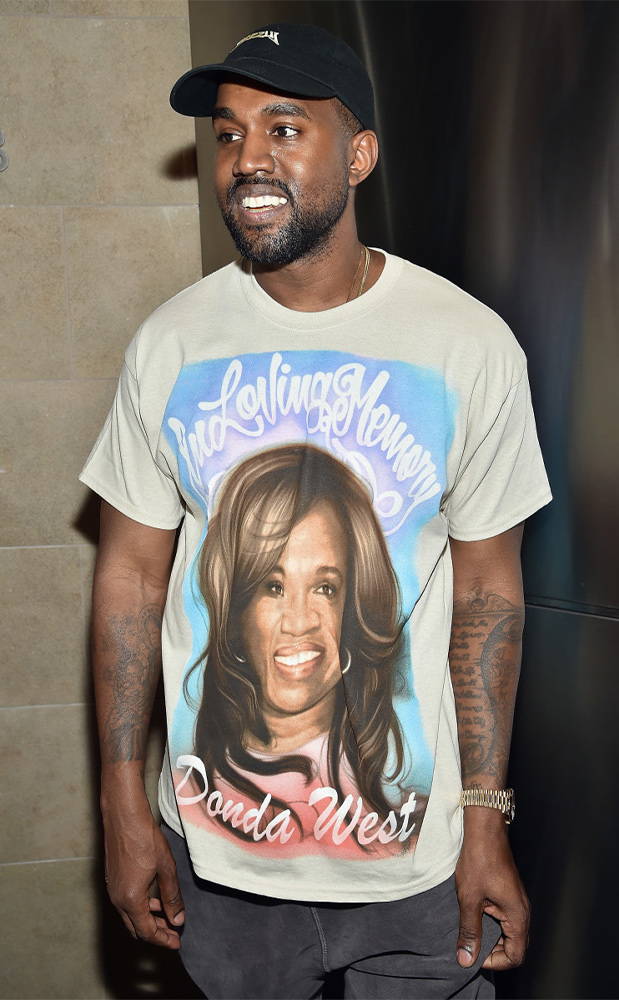 Brands like Awake NY have used airbrush tees as a way to bring awareness to social campaigns. In January, the brands founder Angelo Baque came together with No Company to create a charity tee in response to the fires that ravaged through the Bronx. Designed by Shirt King Phade, the proceeds generated were donated to the families affected by the fire. The brand has continued to work with Phade on wider pieces in his collections too like the New York skyline used for a hoodie this summer.
Given the ongoing '90s nostalgia and growing demand for individualism, it makes sense that people continue to embrace the airbrush tee as the ultimate form of self-expression. Custom pieces like these not only fuels individualism, but feeds our desire for exclusivity. They empower the customer to become the designers themselves, where the possibilities are endless and what you choose to illustrate is just an extension of one's aspirations and imagination. Whether that is a dripped out Mickey Mouse on your chest, a homage to a lost loved one, or simply saying something without having to open your mouth, airbrushing allows anyone to communicate their ideas, express what they are feeling and give a voice to the unspoken.
To receive updates on our latest editorials and documentaries, be sure to follow @oneblockdownon Instagram and subscribe to our newsletter below for more.